'But is it safe to travel Egypt alone?'
Conocidos usually asked this question before any cheery yak about pyramids and King Tut. To many, 'Egypt' today means Arab Spring, mass protests, soldiers, mayhem, a coup d'état. Kalashnikov-toting riot police might misunderstand an elderly tourist's intentions with a selfie stick.
Couldn't an old codger like me go some place nice instead? How about a Goth or Pro Wrestling-themed ocean cruise, for instance? Or maybe a trip on the Bare Necessities Big Nude Boat? Perfect for me!
My two cents on Egypt safety:
(♦) I felt entirely safe in the two cities I visited, Luxor and Cairo. My spidey sense issued no warnings.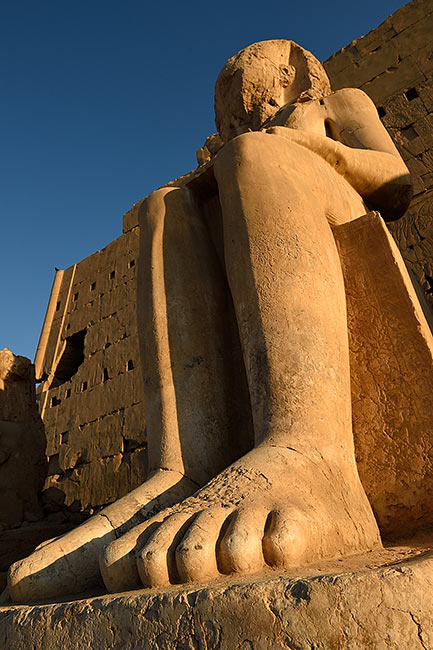 (♦) 'Feeling safe' doesn't necessarily mean that I was safe. I'd felt safe in Guatemala City before being mugged there. A spidey sense substitutes poorly for statistics.
(♦) I dealt with other issues, as you'll see. I wish I'd visited with a tour group.
The United States isn't the only country that offers country-specific travel advice. So do Spain, Australia, Canada, the UK, and, I don't doubt, other countries I haven't investigated.
They didn't see entirely eye-to-eye on Egypt. Australia and Canada thought that Egypt deserved a wide berth. The U.S. and Spain offered a more nuanced take, viewed Luxor and Cairo tourism much more favorably than, say, a trek to the Sinai Peninsula or Western desert. My aging memory cells insist that the UK recently changed its view, that the counsel now online is much more favorable than what I viewed before my trip.
The tourist can evaluate opinions, decide how to proceed. It's your neck, not theirs.
---
She who visits a place inspiring such elementary security concerns is unlikely to encounter atomic clock efficiency in other territorial services while there. I didn't. Egypt is frequently dysfunctional. President Al-Sisi restored order, but is a de facto dictator, maintained in power in 2018 in a sham election. Journalists have been killed, imprisoned, deported. The World Bank estimates that sixty percent of Egypt's ninety-seven millions are either poor or vulnerable. 'What if Egypt collapses?' asked an Economist article in mid-2019.
A dysfunctional place endures problems without defenders. Everyone agrees that they are bad, destructive, subtractive, but no one can fix them.
The two problems likeliest to molest a sightseer are traffic in Cairo and, at tourist sites, the relentless, tireless, unrestrained hounding of visitors for money.
LUXOR
Luxor overlaps the boundaries of ancient Thebes, Egypt capital of B.C. millenia past, 650+ kilometers south of Cairo. For tourists, "Luxor visit" means both the dusty city on the east bank of the Nile, home to most area hotels, and the spectacular tombs and temples of the relatively unpopulated West Bank. A complete Egypt tour would include visits to Aswan, Dendera, Alexandria and Abu Simpel, but Luxor looked like a slam dunk choice for a shorter visit.
Luxor practically oozes history, drips it into the Nile. The four thousand year old Karnak of the East Bank is a city of temples, built over two millennia in honor of currently-out-of-vogue deities Amun, Mut and Khonsu. It may be the largest religious building ever constructed, rivaled only by Angkor Wat in Cambodia. A few kilometers south: the Luxor Temple, founded by Amenophis III in the fourteenth century BC, completed by Ramses II, once connected to Karnak by an avenue of sphinxes. In between: the Luxor and Mummification museums.
And that's only the East Bank. Luxor's greatest treasures are on the other side of the Nile, a ferry or taxi trip distant: the Valley of the Queens; Deir el-Bahari; temples of Medinet Habu, Hatshepsut, Ramses II, and, perhaps the crown jewel, the Valley of the Kings, home to the tombs of more than sixty pharaohs from the sixteenth to eleventh centuries B.C.
Is there a downside?
There is. Consider these words from Frommer's:
"Luxor is the center of gravity of the cultural tourism industry in Egypt. … The main downside … tourists are subject to a higher level of hassle from touts, drivers, and salesmen than anywhere else in the country … I recommend even independent travelers take advantage of tour operators here."
Recommendation seconded. Heartily. Please read on.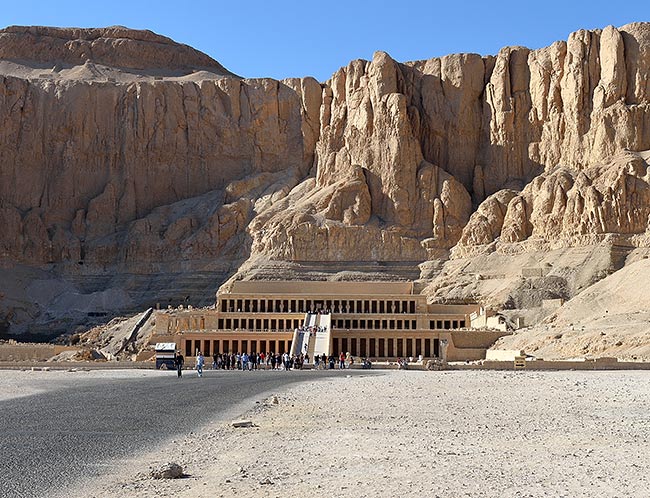 Luxor is Uber-less, and offers only a rudimentary public transit system. Most solo tourists get around by taxi, often ancient Peugeots in worrisomely dismal states of disrepair, generally sporting blue and white paint schemes. Taxis are non-metered. The wise rider agrees on a firm price before entering, and makes sure that the figure quoted will be paid in Egyptian pounds, rather than euros or dollars. A single euro buys nearly eighteen LE (Egyptian pounds). Not a trivial difference.
One bargains. Haggling is the norm. A cabbie's first offered price for a trip to X, Y or Z may be as much as several times higher than the price he (always a 'he,' so far as I could tell) will accept after you turn to walk away. In this regard, tourists enjoy good bargaining leverage while on the urban East Bank: taxis are everywhere.
Most drivers speak only a pidgin English learned on the street, if they speak English at all. That said, I had no problems with artfully "misunderstood" fares while in Luxor. If we agreed clearly on a seventy pound fare before I got in, he would expect to be paid seventy pounds when I exited. He might, however, leer while professing to carry no change for a 100 pound note. Toting small bills was my problem.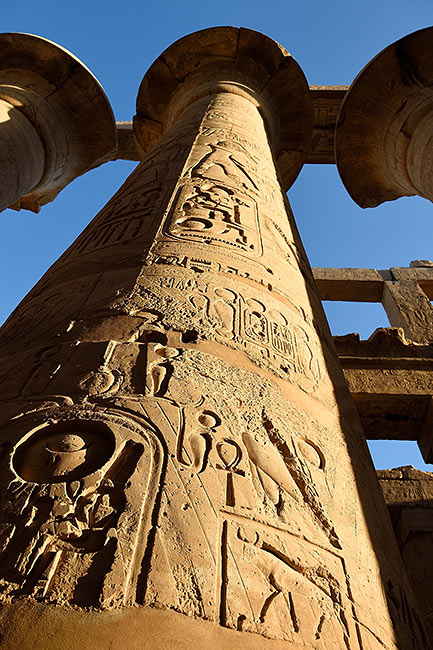 I paid for a succession of short cab trips between East Bank attractions: Karnak, the Luxor Temple, Luxor Museum and my East Bank hotel. Travel to the major West Bank destinations was a different matter. I could take a ferry across, but felt less certain of finding a cab on the other side, and didn't want to brave a long hike between sites. Luxor tourists thus often negotiate a flat rate to hire a driver for a half or full day. He will drive you to the West Bank and back again, will ferry you to whichever West Bank sites you want to visit and twiddle thumbs while waiting for you to emerge to be chauffeured elsewhere.
My flat rate driver was Muhamad. (A moniker as rare for Egyptians as 'John' or 'Jim' are in the states.) I met him near the Luxor Museum after finishing up with the East Bank, paid five hundred pounds to be ferried to West Bank attractions in the afternoon, and another five hundred pounds to be met at 5:30 the next morning for more of the same. (I wanted to arrive at Valley of the Kings early.)  I deliberately paid about 100 pounds more than the going rate, and tipped generously. I wanted Muhamad to take care of me.
Muhamad drove a clapped-out Peugeot that smelled of gas and lacked passenger seat belts. He tried to upsell tirelessly, relentlessly, doggedly, wanted to be booked in advance to transport me to wherever I might wish to go within a day's drive of Luxor, and often repeated a pitch nearly word for word after I'd firmly refused its predecessor ten minutes before.
Late on the first afternoon — with a slightly embarrassed expression, and likely after much arm-twisting from a confederate who had learned that Muhamad had bagged a live one — he steered the Peugeot abruptly off the highway onto a side road, and remained awkwardly silent when I asked where we were going. I soon found out: we were met by leering youth eager to show me a 'private' tomb under his house.
Oh, suuuuure. I refused to get out of the cab.
Please meditate on the fact that a sober, wide awake Tim willfully booked Muhamad for the following day after these experiences. Other Luxor cabbies had already shown me that I could do worse.
---
A solo tourist's trials with Luxor costermongers do not end with negotiations with cabbies.
At Karnak, Luxor Temple, Medinet Habu, Ramesseum and other sites, I was frequently pursued by tip-hungry 'guides.' Your senior citizen blogger never broke into a trot to escape them, not with the heavy dSLR around my neck, but came close. Others haunted rest room entrances, sought tips for proffering toilet paper after visits to the urinal, sometimes claimed that the rest rooms were not free.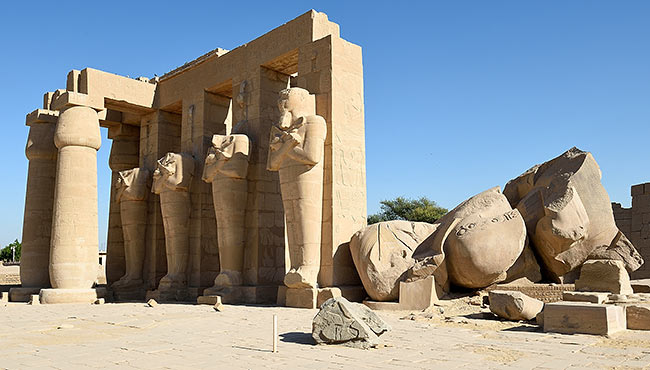 I'm just getting warmed up. Entrances to many sites required passage through a long gauntlet of vendor kiosks, hawking 'Egypt' baseball caps, Sphinx post cards, pyramid paper weights, similar bric-a-brac. Some determined vendors might doggedly pursue a lone tourist for half the length of a football field, hovering at an elbow, exhorting, wheedling, lowering prices all the way.
The Valley of the Queens ticket seller scribbled three tomb suggestions on the back of my ticket, unasked, sought a tip for his trouble. Only one tomb was open. A Valley of the Kings shuttle driver insisted that my ride cost four times the actual price. Deir el-Medina guides sought tips to turn a blind eye while I ignored 'No photos' signs. I didn't ask; they offered.
Too much for me. I understand that I am not better than these folk, that a birth in less fortunate circumstances would have put me in their ranks, that I too might look for ways to coax $€$€$€ from tourists to feed my family. I understand that anyone who can seriously contemplate a tourist trip to Egypt is vastly wealthier than the natives who humbly sell their cab rides, souvenirs, strips of toilet paper. But I didn't have room in my carry-on for dozens of papyrus scrolls, scarab necklaces, cartouches, Nubian hats. My haggles with cabbies were a lose-lose: I could look like a pringado for paying the phantasmagorical first price asked, or feel ashamed while chiseling a bargain out of an impoverished working stiff with a likely third grade education.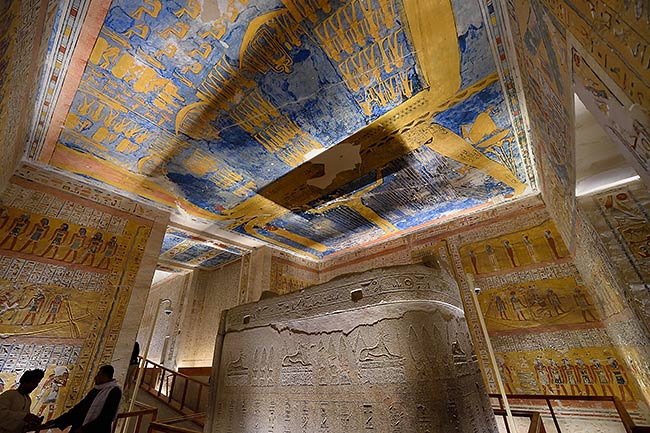 Enough. I saw the Luxor essentials, but then cut back travel plans and spent my last day with my hotel room TV, solely to escape Luxor's hustlers. No morning hot air balloon ride, no day trip to Dendera. I knew my limits. I'd had enough.
Look for a packaged tour.
LUXOR: PRACTICAL TOURIST TIPS
Intended mostly for those stubborn masochists still determined to visit solo:
(♦) I was grateful to visit Karnak, the Luxor Temple, Luxor Museum, Valley of the Kings, Medinet Habu and Ramesseum; thought the temple of Hatshepsut looked more impressive from afar than up close; never got to the Valley of the Nobles, and wish I'd skipped Deir el-Medina and Valley of the Queens.
(♦) East Bank attractions and the Valley of the Kings, Valley of the Queens and Temple of Hatshepsut on the West Bank sell their own entry tickets. Tickets to other West Bank attractions are purchased at this ticket office, six hundred fifty meters west of the Colossi of Memnon. A hired driver should know where everything is.
(♦) Photographers may blaze away for free at temples Karnak and Luxor, Medinet Habu and Ramesseum. They also may blaze away (without flash) inside tombs at the Valleys of the King and Queen, after coughing up 300 LE (about 17€) at each site for a photo permission ticket. I also paid extra to make with the shutter at the Luxor Museum, but have forgotten the cost. Must not have been much.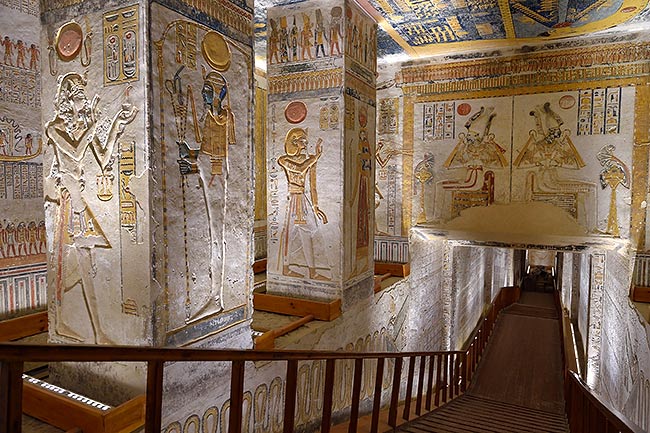 (♦) I would feel differently about the Valley of the Queens if I'd visited its one 'extra cost' tomb: Nefertari's, reportedly the most spectacular tomb in Luxor. TripAdvisor scribes suggest that a visit would have set me back 1,400 pounds (about seventy-eight euros), that I would have been rushed through in ten minutes and told to keep my camera in the bag, even with the 300 LE photo ticket. No, thanks.
(♦) The Valley of the Kings includes two extra cost tombs: Seti I, for 1,000 LE, and Ramses V/VI, for 100 LE. Photos (with the 300 LE photo ticket) are permitted at the second; but not at the first. Or not officially: a guide made it plain that a 'tip' in the right hands at Seti I could work miracles. I wanted only legal pix, didn't go in.
(♦) I snapped all my favorite tomb photos at Ramses V/VI, have included only one shot from another tomb in this post and one more in the photo directory.  I reluctantly admit that I would have struggled to frame shots like these while surrounded by other sightseers on a packaged tour. Regard this as the only reason I can think of to visit Luxor solo, contrasted with the many reasons to go with a group.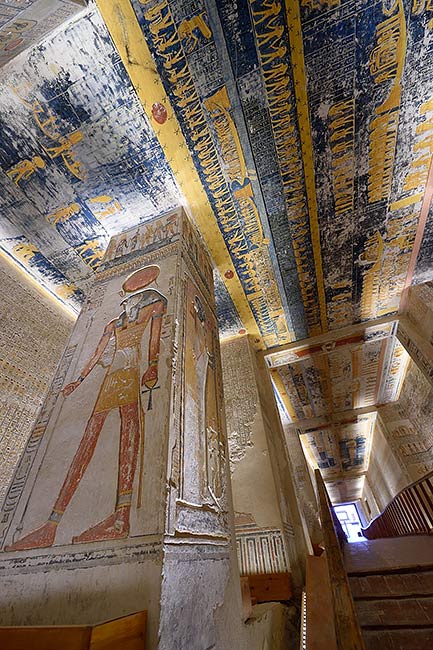 Ramses VI usurped the tomb from Ramses V some three thousand plus years ago, but was unable to call upon pharaonic powers to prevent future plunderers from busting up the sarcophagus. I recommend an online video, and shall highlight the author's comment that these spectacular visuals were never intended for an audience, but only to guide the pharaoh's spirit in his other-worldly quests after death. Wow.
KV9 is the official name. The Romans called it the tomb of Memnon; Napoleonic scholars, La Tombe de la Metempsychose. George Daressy cleared the tomb of debris in 1888. Thanks, George! You're a pal.
(♦) Expect only a fraction of the Valley of the King's sixty plus tombs to be open when you visit, and expect the tombs to have garnered varying reviews among travel bloggers and TripAdvisor contributors. Tutankhamen? Overrated, say they.
Your admission ticket lets you visit three. I paid the extra 100 LE to visit Ramses V/VI, so saw four. The photo ticket, on the other hand, is good for three tombs max.
(♦) I already had Egyptian pounds and a Vodafone Egypt SIM card when I arrived at Luxor airport, didn't look for an ATM or currency exchange counter, and didn't patronize the Orange kiosk that was still open when I arrived there at 8:00 p.m. on a weeknight. I found no web site for this airport online.
(♦) A shameless plug: readers, please meet cab driver Hussein Gaber, photographed outside Luxor Airport before my flight to Cairo. The hotel booked him for my last ride in town.
Hussein can be hired for longer trips, charges a flat rate of 400 LE for five hours. He speaks English, Russian and French, all self-taught, struck me as friendly and honest, didn't try to sell me anything. His cab is in better shape than anything else I saw in Luxor. I should have guessed that the hotel would keep tabs on all the best cab drivers.
Hussein's phone # and WhatsApp #: (002) 01008769070. I dearly wish I'd met him earlier. If you insist on journeying solo in Luxor, as I did, you'll be a lot happier with a good driver.
CAIRO
Mega-city Cairo is Egypt's capital, and offers tourists access to the Pyramids of Giza, Great Sphinx, Egyptian Museum, Mosque of Muhammad Ali, 'Hanging Church' of the Coptic Christian Quarter and many other attractions. It also allows transit geeks to goggle in horrified wonder at some of the worst traffic on the planet. Eager for a strong argument against a free rein for private cars in big cities? Visit Cairo!
I'll start with some positives:
(♦) The riches of downtown's famed Egyptian Antiquities Museum are now being transferred to the Grand Egyptian Museum, about six kilometers north of the pyramids, slated to open this year. (Maybe. One hopes.) I walked past occasional crates, pallets and scaffolding while at the Antiquities Museum, felt at times that I was visiting mid-move, but will still gush unreservedly about the visit.
The most impressive historical museum I've ever seen. Artifacts that would pull marquee billing at any other museum in the world are practically left lying around; some sarcophagi are exhibited in stacked glass boxes, like home aquarium tanks at a pet store. I wish I had photographed the thick dust on the shoulders of one bust. Antiquity seems taken for granted here.
Egyptian Antiquities Museum visitors should expect well-warranted crowds inside, and will need patience to inch through several security checks and the ticket line. An easy walk from the Sadat metro station.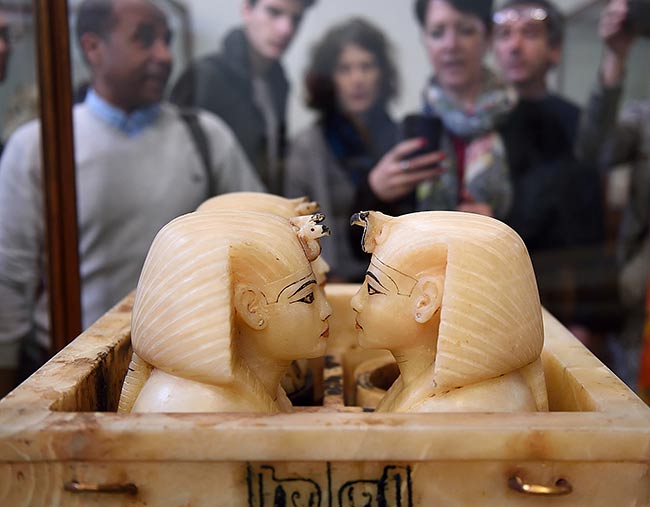 (♦) I was grateful to visit the Muhammad Ali Mosque, Christian Coptic Quarter, Khan Al-Khalili souk and Al Azhar Park, have little to add to praise already penned by TripAdvisor contributors. The souk stroll felt like my most authentic Cairo experience, as I spotted only two other likely tourists while navigating the dense crowds there.
(♦) The Cairo metro was a pleasant surprise.
"You're joking," you think, after a glance at the photo below. Well, that's not a metro. A train at the Giza metro station, yes, but not a metro. The metro tracks in this shot are at top left. I never bagged a metro photo I think worth sharing.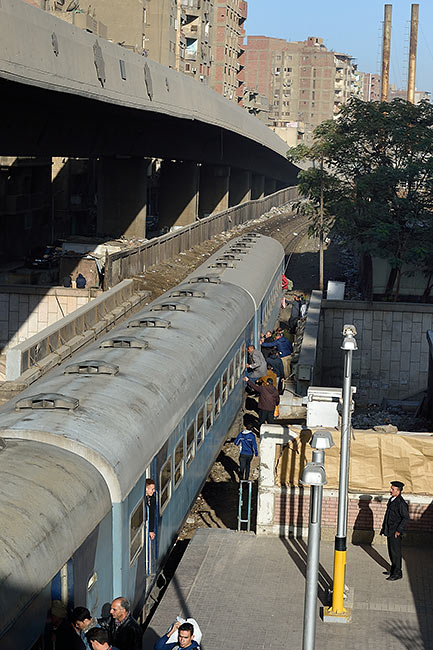 Why have they all jumped off the platform to board the train in this pell-mell fashion? You'll have to travel to Cairo to ask. (Tell them Tim sent you.) The train stopped with these two cars jutting away from the platform, and incredulous me made with the shutter while the riders shown boarded every which way they could. The train eventually started rolling again, without any dangling extremities.
Back to the metro:
"The most crowded subway in the world," warned Wikivoyage. I took a deep breath to brace myself before descending for my first ride at Sadat station, but encountered no teeming masses there, or during other non-rush hour metro rides in Cairo. The system is older and homelier than Madrid's, but I saw no stations as dismal as the Grant Avenue Brooklyn station that so horrified me in 2011 .
The metro's drawback: the system isn't big enough, not nearly. I still had to take Uber.
Impromptu sign language at a ticket window scored ten yellow tickets for 3 EGP (about 19 cents) apiece. I learned the hard way that these are good for a maximum of nine stops (and am grateful to the friendly local who helped explain my predicament to the ticket agent).
I eventually found a ticket window that would sell me an IC card, but never used it. A souvenir.
A NEW UBER USER
Worldwide protests and my aversion to conducting commerce on my smartphone had kept me out of Uber's arms before this trip. To visit Cairo, I felt I had little choice. Uber is available there, and widely recommended by fellow tourists in blogs and online fora.
I installed the app while still in Madrid, gave it a test run for my wee hours trip to the airport, and used it daily in both Doha and Cairo.
My new user thoughts, without any pondering of Uber's impact on congestion, transit, pollution, the livelihood of taxi drivers. Just 'How well does it work for a tourist?' thoughts, at least for now:
(♦) Far better than expected. The app is well-designed, easily puzzled out by a greenhorn. I had a ride within three minutes of exiting my Madrid apartment building at 5:00 a.m. on a weekday, usually waited no more than five or ten minutes for a ride in both Doha and Cairo. I didn't have to fiddle with settings to make Uber work once abroad; it fired up with the country-specific SIM cards, registered charges properly on my Spain credit card.
(♦) Doesn't compete with a high-quality transit system, at least for me. My 54,60€ monthly Madrid transit pass covers my metro fare to the airport. I'd never dream of paying 20€+ for Uber or a cab while the metro is in operation, unless traveling with heavy baggage.
My pro-transit leanings may blind me; I may underestimate the importance of personal vehicle creature comforts to other riders. I have taken only two taxis in Spain since arriving here in 2016.
The lousier the transit system, of course, the better rideshare looks.
(♦) Is very, very tough to beat for a tourist concerned about cheats in a transit-unfriendly city.
A Madrid acquaintance was burned badly by a pirate cabbie on a holiday trip in Eastern Europe, wasn't allowed out of the cab before forking over a larcenous fare. The theft robbed him of money he'd hoped to spend there as a vacationer, left him feeling angry, powerless, humiliated.
A taxi professional may respond that such crooks are in the minority. Of course, but they exist, and are especially likely to prey on clueless tourists.
Uber makes such chicanery impossible more difficult.  (Edit, 1/8/20: Please see this and other articles on Uber scams.)   The customer sees the price in advance through the app, pays through the app, even tips through the app. No hard currency is exchanged. I got around much more easily in Cairo Ubers than in haggling-required Luxor taxis.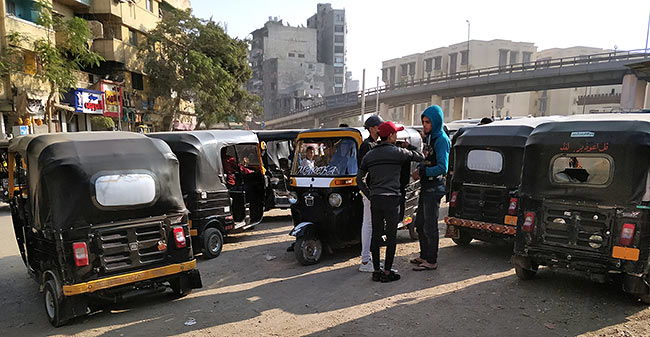 (♦) I tried to install the Uber app on my De-Googled Android handset, couldn't persuade it to work, and had to instead first restore a Google Play-enabled Android that signs me in automatically to Google's international surveillance network. (No idea what I'm talking about? See this post.)
I restored my De-Googled Android OS while riding the metro home from Madrid Barajas, won't be able to use Uber again without another configuration change. I don't expect to use it in Madrid.
---
On to Cairo negatives:
Cairo let me book the haggle-free rides through Uber just described, and, with one exception, freed me from the touts who hounded my steps in Luxor. The exception, alas, was an important one: the world-renowned Giza Necropolis, unquestionably the greatest disappointment of my Egypt visit.
Two touts tried to block the path of my driver en route to the Mena House Necropolis entrance. "Illegal people!" the driver complained; they wanted to rope him into an extra-cost parking space.
I bought my ticket, entered the Necropolis, was almost immediately confronted by a portly gent with an official-looking name tag dangling above a generous belly. I could not walk freely among the pyramids, said he, despite my ticket; t'wasn't permitted; I would have to pay to ride on a horse or camel. Like his camel.
I sized him up as a fraud, walked on, was set upon by two or three other touts, and determined to put a distance between us. No distance was great enough. Touts roamed the Necropolis on the backs of likely ill-treated horses and camels, and inevitably steered said beasts my way after spotting solo me with camera. "Hello, friend! Where are you from, friend?!"
Like that. I would have held up longer if I hadn't just dealt with non-stop touts in Luxor. I wrote off the Necropolis, left early.
CAIRO TRAFFIC
The TomTom 2018 traffic index ranks Cairo in seventeenth worst metropolitan slot worldwide, ahead of Kyiv, Saint Petersburg, Bucharest, Istanbul and Moscow. I am skeptical. I visited those cities, saw nothing in any of them that remotely compared with the surreal traffic congestion of Cairo.
Many online videos will back me up. (Here, or here, or here.) Too many. I took only photos, but think I can describe traffic on major Cairo roads to an American:
Start by picturing an urban California freeway, say, Route 405 or 5 in Los Angeles.
Eliminate a lane or two in each direction. Also eliminate anything resembling a shoulder. A shoulder would make things too easy.
Add stopped cars and pedestrians in the right side lane, and gaps in the right side barriers that allow pedestrians to walk on and off the road.
Put something ridiculous in the far left lane every three kilometers or so. A tuk-tuk, maybe, or a moped, or something else absolutely unfit for a traffic artery. I remember my driver's colorful language while swerving around a donkey pulling a cart in one left lane, although said left lane was at least on a street more akin to Los Angeles' Wilshire or Venice Boulevard than to a freeway.
Send an occasional stream of pedestrians darting

across

all lanes of traffic.
Legalize lane splitting. Not just for motorbikes; for cars, trucks, everything on wheels. Dashed lines separating lanes may be heeded, but also may be regarded as meaningless decorations.
Hit the horns. Horn symphony, horn chorus, horn serenade. Ahead, behind, from all sides. In doubt? Honk! Honk again.
Gridlock the whole magoo about two-thirds of the time.
Numbeo decrees Cairo to be the ninth worst city globally in its 2019 mid-year pollution index. Others judge it to be the worst. I felt the effects while in the city, struggled to think, to focus.
I wonder if Egypt's powerful hope unconsciously that gridlocked, smoggy Cairo will implode, sink quietly out of existence, despite its hugeness, pose no more administrative headaches. They have sited the gala Grand Egyptian Museum near the pyramids in western Giza rather than Cairo proper. President/dictator Sisi is now spending billions to build a swanky new capital about sixty kilometers east of downtown. He can rule Cairo without ever having to go there, and perhaps one day raise mildly surprised eyes when informed that Cairo has simply gone away, sunk out of sight, smog, traffic, everything. Past administrations might have had a real shot at reining in city traffic. They didn't, or failed. So now …
---
EGYPT ODDS AND ENDS
(♦) Ninety percent of Egyptians are Sunni Muslim. A cabbie drove with a Koran on his dash. I passed a busy prayer room at a Cairo metro station, saw locals kneeling to pray in parking lots.
(♦) Western tourists may enjoy unusual popularity with Egyptian children. Grade school groups encountered at the Luxor Museum and Cairo Hanging Church were eager to practice their English "hello"s, and several children asked that I join smartphone selfie shots. I had read related TripAdvisor threads, was prepared.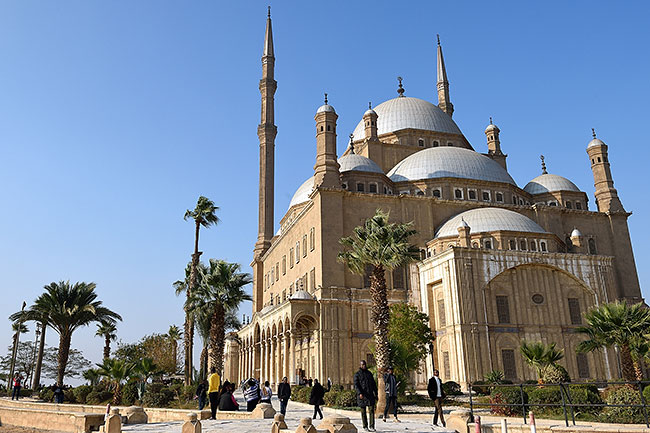 (♦) I had to fire up a VPN to access the Mada Masr and Al Jazeera web sites in Luxor.
CAIRO PRACTICAL TOURIST TIPS
(♦) Americans can buy thirty day tourist visas on arrival at Egyptian airports. $25. I'm glad that I bought mine beforehand at the Egypt E-Visa Portal.
(♦) I had no trouble pulling Egyptian pound notes out of the ATM at the Cairo airport arrivals hall.
(♦) Uber pick-up at the Cairo airport is at designated signs in terminal parking lots. You can tell the app that you want to be picked up where you're standing, but it's going to send you to one of these spots.
(♦) The Uber app informs riders of the make, model and license plate number of an arriving car. In Cairo, expect the license plate to be in Arabic. A challenge for a Westerner.
(♦) The Vodafone SIM kiosk at Cairo airport is found before you go through the 'nothing to declare' customs line to the arrivals hall. No idea why. I found no competitors, had to diplomatically sweet-talk my way back into this area to buy my SIM.
"Lousy" is my seat-of-the-pants score for cell phone coverage in both Luxor and Cairo.  Be prepared.
---
Wanna see more shots?  Wanna see 'em full size?  Please visit the photo directory: