… but ends and odds about different cities. This time the frequent-flying Bald One got to flash his now thoroughly broken in passport in London, Paris, Madrid, Amsterdam and Oslo.  In order:
London
(♦)  I regarded London as about the least hospitable city for cycling I've ever seen, but still saw some martyrs-on-wheels there anyway.
If you know a London cyclist and think you might be a beneficiary of his estate, make sure he sends you a signed copy of the will before his next bike ride. That bad.
(♦)  I didn't plan it this way, but have now wandered aboard four of the world's better known driverless metros: the Skytrain in Vancouver, the Yurikamome Line in Tokyo, the Metro in Copenhagen, and now the Docklands Light Railway in London. One of the London DLRs even posed for a picture: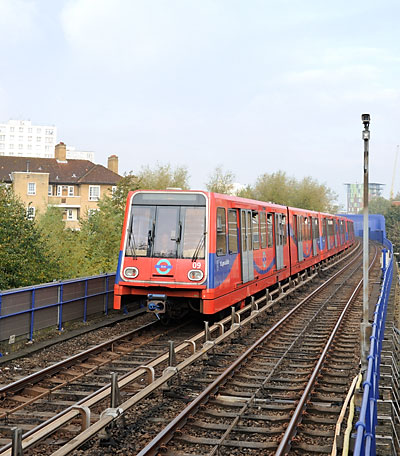 The DLR worked as faultlessly as the other systems. Bay Area fliers get carted around on AirTrain at SFO, and soon on the Oakland Connector at OAK, but all-auto systems still don't seem to get much press attention in the U.S..
(♦)  The 'board a less crowded car on the subway' strategy I described last September didn't work on the Underground. My fellow riders fanned purposefully to all ends of the platform at every station. I guess a visiting Yankee isn't going to teach Londoners how to get a seat on the Tube.
(♦)  A tour guide caught my ear with the offhand observation that Londoners may regard their subway with greater endearment than do straphangers elsewhere. Why? Brits knew they could retreat to that Underground for a fitful night's sleep while Nazi bombs rained overhead in World War II.  Here's a story.
(♦)  If it's sunny and clear, please remember my opinion that the Emirates cable car is an underrated tourist attraction.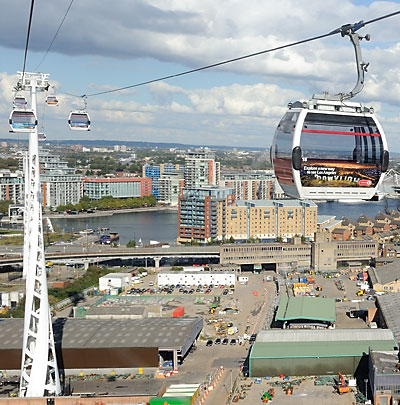 If it's foggy, forget you read this.
(♦)  We have American accents. We can't hear them and don't think we have them, but we do.
Paris
(♦)  Some accuse Parisians of rudeness. I thought they were plenty nice, but should add that I remembered my own Emily Post Ps and Qs, and didn't start conversations with strangers in English. Even a faltering Excusez-moi de vous déranger goes a long way.
(♦)  Paris boasts an excellent transit system. Wikipedia hails the Paris Metro as one of the most densely built in the world, with 245 stations within Paris' 34 square miles — or 7 per square mile, according to my calculator. There's also a tram and bus grid, and a RER rail network serving both airports.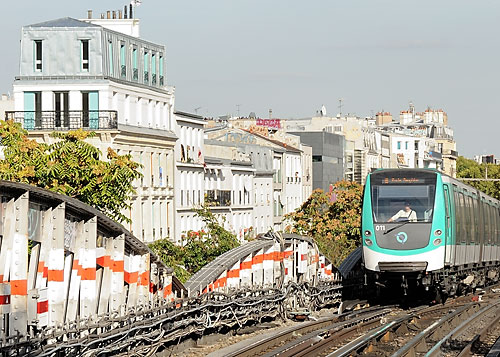 (♦)  The excellent transit system is grungier than London's. Graffiti, ripped seat cushions, and the like.
(♦)  Another Wikipedia entry details some of the public works efforts expended in ages past that make the city as spectacularly beautiful as it is today, spots of grunginess notwithstanding.
Consider the sculpture below, in Place de la Nation square. Jules Dalou finished it in 1899. I think it's safe to assume that Paris has paid the artist's tab, unless a scheming bureaucrat suckered Monsieur Dalou into accepting a century-long IOU.
Few modern sculptors are capable of anything remotely as good. (Frankly.) For that century-old investment, Paris gets a municipal heirloom, for now and evermore; all they have to do is keep jealous visitors from carting off the umpteen ton statue to, say, the Barstow Skate Park. It just has to be allowed to stand still, look beautiful, and add to Paris' reputation.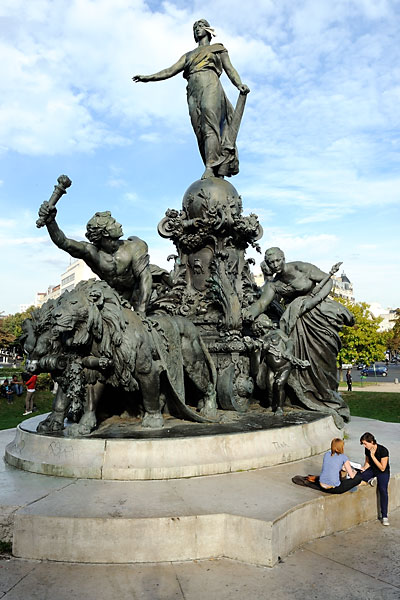 Works like that are all over the city.
(♦)  I will refer you to this source for counsel on obtaining a Navigo Decouverte IC card for your transit travels, with two additional suggestions:
Consider presenting a visual at the ticket window that says what you want in French, along the lines of: Je voudrais Navigo Découverte, semaine expiration DD/MM/YY, 34,40€ – 5 zone. Merci!
Consider bringing along your own photo, sized to the 3 cm x 2.5 cm desired for the Navigo Decouverte, rather than paying for an improperly sized photo at a photo booth. The Metro ticket agent ignored my fresh photo booth shot and seized on the properly-sized shot I'd toted abroad, even though the Tim shown in this vintage shot had yet to sprout a gray hair.
Madrid
(♦)  Madrid is also very attractive. Not as stunning as Paris, I don't think, but up there.
(♦)  Madrid is a lousy place for vegetarians. Meat in the tapas, meat in the entrees, meat dangling from hooks at the Museo del Jamon. This is Spain you're in: they fight bulls here.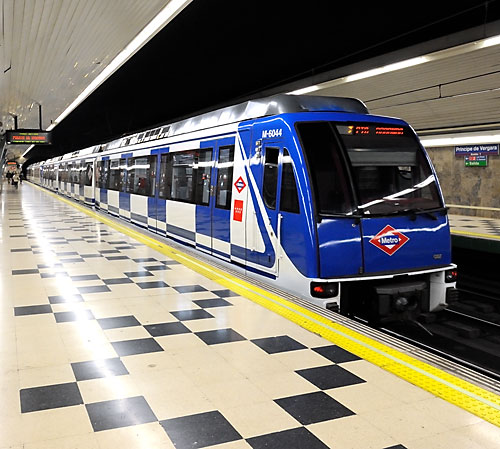 (Bullfighting is not legal in Catalonia, however, which I may visit another time, if only to ride the Barcelona subway and score a veggie burger without a long hike.  Or so I hope.)
(♦)  The Madrid subway is clean, efficient, on the sterile side — the seats are molded plastic — and can be as jam-packed with commuters at rush hour as anything I rode in Asia.
(♦)  You'll find many charming car-free pedestrian streets in the city center, and many of the street performers thereon — like the golden guy below, on Calle Arenal — prepare more thoroughly and are more imaginative than counterparts seen in California.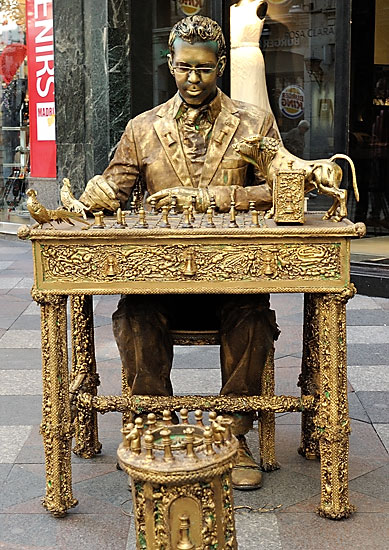 (♦)  I'm not a fine art buff and maybe oughta keep my know-nothing trap shut, but here goes: I was simply awestruck by the caliber of the masterpieces at the Prado Museum. Ribera, Tiziano, Murillo, Velazquez, Zurbaran: I staggered around the museum with parted lips and wide, wondering eyes.
Amsterdam
(♦)  I wrote about all the bikes a few weeks ago. That was the real takeaway-of-note on this trip abroad, at least for me.
(♦)  On paper, the infrastructure of trams, buses, Metro and nationwide NS rail services looks as impressive as Zurich's or Copenhagen's. In practice, I thought it a notch below. Expect graffiti, scarred-up seats, other little point deducters. An L.A. bus rider might imagine she'd wandered into paradise, but a Dane or a Swiss might sniff.
(♦)  If you type 'Amsterdam' into Google, autocomplete will offer 'Amsterdam red light district' right after 'Amsterdam weather.' Amsterdam does indeed have this district, called De Wallen, centered in the blocks around the hapless Oude Church. I can't imagine how many puppies some long ago Oude Church minister must have kicked to rate having his place of worship banished here.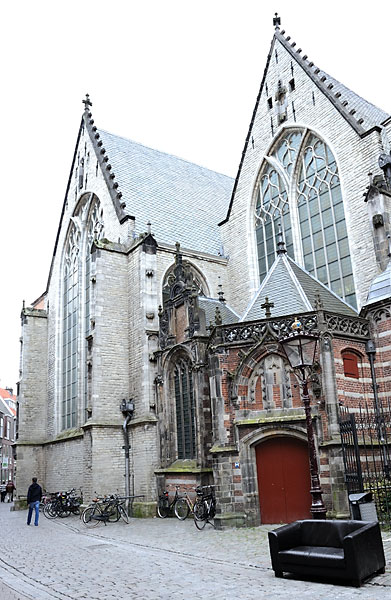 De Wallen passers-through will find the narrow streets, canals, and stately architecture seen elsewhere in Amsterdam, as well as brightly-lit storefronts full of tasteful dildos, butt plugs, plastic vaginas, cock rings and other highbrow fare. I mean it. These dumps would be déclassé for a Bakersfield strip mall, and there they are, right in the middle of beautiful Amsterdam.
There are also tall window displays in which prostitutes in bikinis display themselves. I only saw a few; I strolled through De Wallen in the late afternoon, and presume that more emerge at night. I can't shake the memory of one: about thirty, black, with a mother's abdomen, gamely presenting an entirely mortal physique, perhaps reduced to window prostitution to support a child.
(♦)  Amsterdam can offer up a tasty espresso in a koffiehuis, but is better known among some travelers for its 'coffee shops,' which sell marijuana. A green and white license sticker in the window distinguishes the two. Coffee shops also often have drawn shades, and display businesslike 'No photography' signs. I spotted more in Central Amsterdam, but believe the 'coffee shops' are all over town.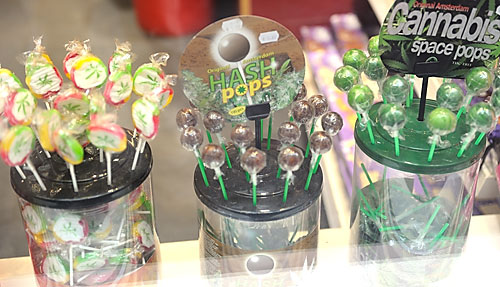 Your scribe is unenthusiastic about marijuana. I understand that the unprivileged kids I worked with in L.A. have been volunteered by birth into an often brutal struggle to get a toehold in life, without trust funds or Ivy League family connections to fall back on, that they have no choice about participating in this struggle and are likely to fare a whole lot better if they can face it sober.   I also detect an hypocrisy among some marijuana champions, who want freedom to smoke blunts and bump into things, but don't want to be attended to by cannabis-medicated surgeons, paramedics, cops, and electricians, or cruise alongside cannabis-medicated truckers in eighteen wheelers on the 101. There's also a lot of low brow, low tech money in the weed trade, and those monied interests won't go away gracefully if the public has second thoughts about the door it opened to them.
(I suggest a look at this affidavit related to the prosecution of State Senator Leland Yee. The reported $50,000 a week marijuana trade engaged in by the son of former Board of Education president Keith Jackson is described on page 52. That kind of jack can buy pols and publicity.)
With all that said, I will admit that I noted no unsobriety among the Amsterdam public, and few signs away from the 'coffee shops' or De Wallen that such places exist. The phrase "like working in Vegas" occurred to me often, although no Amsterdammer used it. That stuff is there, you see it, but it's also easy to avoid.
(♦)  Amsterdam is a beautiful, beautiful place, with the Van Gogh Museum, Rijksmuseum, Anne Frank House and much more to offer the clean-living tourist. I'm a little surprised that they tarnish the city's brand by permitting a stick-it-out-in-the-swamp-by-the-airport sector like De Wallen, ethical considerations aside.
Oslo
(♦)  Oslo is in Norway, and Norway is rich. That should be borne in mind in any contemplation of the city.
Norway has become the world's eighth-largest oil exporter since Phillips Petroleum struck paydirt in the North Sea in 1969. The nation's sovereign wealth fund controls one percent of the world's stocks and bonds, and beats out the Abu Dhabi fund as the world's largest. On paper, every Norwegian is a Krone millionaire. (Former about.com investment guru Joshua Kennon writes wistfully of the sovereign wealth fund the United States might have established if it hadn't put two wars on the credit card.)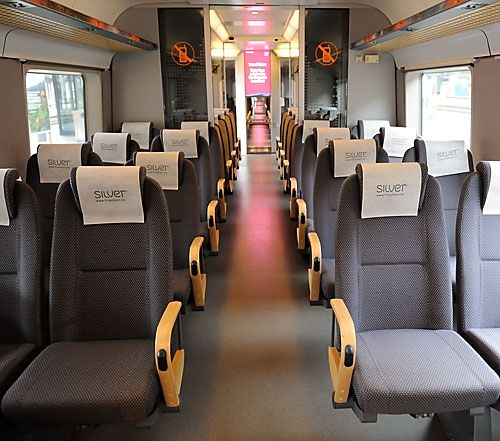 (♦)  I found nothing online to confirm my suspicion, but suspect that the plump columns of black ink on the national ledger have influenced area transit services. The spotless 'Flytoget' I rode in from Oslo S looked like it had just cleared QA at the factory. I never had to sit next to anyone on the metro; I never even had to sit facing anyone. (Please bear in mind, though, that I rode the metro only on the weekend.) Trams were busier, but I always had a seat.
(♦)  As for fare enforcement, I can describe the city's apparent philosophy in three words: Oslo trusts you. I bought a Ruter IC card at the airport, loaded it with a one week pass, was asked to validate the card before I boarded my first car, and never had to produce it again.
Do you tap the card on a card reader on your way in or out? No. Do you show it to a fare inspector? No. You, inherently upright and truthful dweller in Norway that you are, simply know that a valid electronic one week pass exists on the IC card that you're never asked or expected to take out of your wallet or purse: that's good enough for Oslo!
Norway ranks fifth in the world in Transparency International's corruptions perceptions index, which suggests that Ruter has grounds for trusting riders as it does, but with that said: I'll bet they'd pull in the leash quickly if the coffers weren't so full.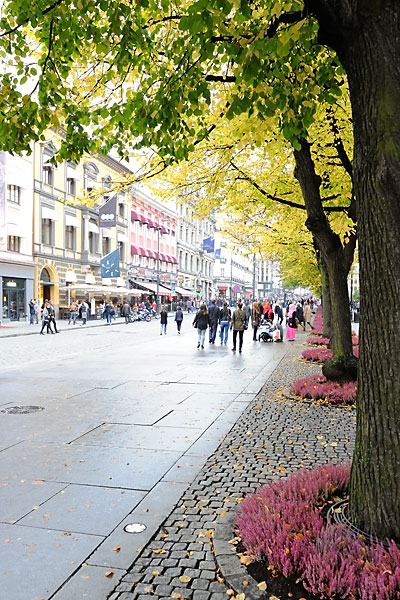 (♦)  The architecture is centuries older and the weather is a lot more challenging, but Oslo still reminded me of what Northern California's Marin County might be like with a real transit system. It's clean, pretty, and feels wholesome (or at least did in contrast with Amsterdam). I loved the car free pedestrian street Johans Gate, and wish I'd stayed in the city longer.