A little over a year ago, I described myself as a 'carry on at all costs' flier. No longer! I arrived in Madrid in early July with a one way ticket and no return plans, had to prep and pack for a far more distant horizon than in journeys past.
Pre-trip research suggested I buy some new stuff. I'm mostly glad I did, shall describe my successes below.
I usually loft a suspicious eyebrow at product plugs in a blog, and can't blame you if now suspect the world-wandering Bald One of moonlighting in stealth PR. It ain't so, and I'd swear as much on a Unitarian hymnal, but that's just what I say, right?
Use your own judgment, trust me or not, as you see fit.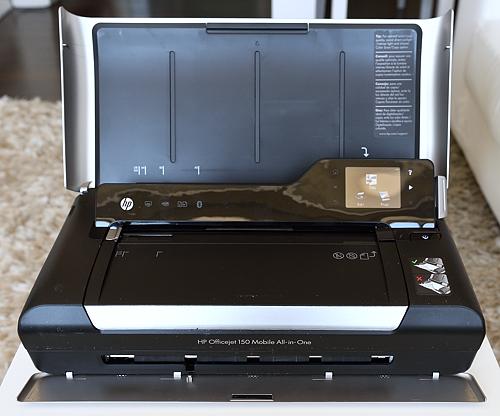 HP OFFICEJET 150
16.5 x 9.7 x 8.6 inches, under ten pounds, and it didn't leak ink in the suitcase. You'll risk a straight jacket at Camarillo if you try to hardcopy a dissertation out of this gizmo, but it scans and prints short docs with ease. I have found it to be untemperamental, and was grateful that Linux recognized it as soon as I plugged in the USB cable. I presume, but don't know, that it works as well with Windows and Mac OS.
Paper to be printed goes in on top, above the HP logo. Paper to be scanned slides in under the logo. I ignore the touchscreen at right, control the OfficeJet through Linux software, didn't have to deal with special drivers or proprietary software. I plugged it in and it worked.
ETEKCITY TRAVEL SCALE
I completed my last of many lifetime diets about ten years ago, when my aging metabolism needed several miserable months to shed a mere fifteen pounds. "You're not going through that again, Tim," said I then to myself, and meant it. I watch my weight like a TMZ celeb watches a Q rating, sound unforgiving sirens if it climbs even a few pounds out of the desired range.
I want a trustworthy scale.
Etekcity doesn't call this a 'travel scale.' I do. I have found it to be fussier than heavier conventional scales owned in years past, but a 3.9 pound shipping weight meant I could reasonably expect to shlep it onboard in checked luggage.
Mine wants a flat surface to sit upon. If I can press any corner and detect a wobble, it wants to be moved somewhere else. I step on it once in the morning, wait while its electronic innards decide what I weigh, then don't step on it again until the next morning. If I insist on stepping in it again two minutes later, the little batteries are likely to deliver a different reading. (Perhaps they're catching their breath.)
A travel scale. A far, far cry from a human-sized balance beam scale. As a travel scale, first rate. Not for a forever home, or at least not for mine.
Photographed with a one euro coin, to show relative size.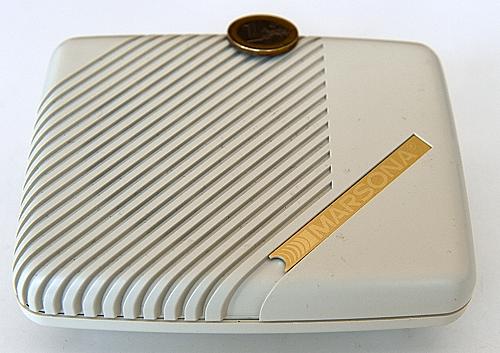 MARSONA WHITE NOISE MAKER
You've showered, unpacked, checked in (not in that order, I hope), crawled under the covers, and now discover that you can audit your neighbor's cell phone yakathon through paper-thin hotel walls.
What to do? A box fan would drown out the yak and let you sleep, but flight attendants would snicker if you tried to stuff one in the overhead.
Consider this one pound (ahem) 'travel sound conditioner,' shipped with adapters for worldwide power sources. I think the Marsona's settings for 'rain,' 'waterfall' and 'surf' all sound only slightly better than TV test pattern static, but I have used the little dealie (in conjunction with earplugs) with a 230V, Type F outlet in Spain and a 110V, Type A outlet in the U.S., and don't regret the purchase.
BRIGGS & RILEY LARGE EXPANDABLE SPINNER
The four sturdy "spinners" make this bag as nimble as such linebacker-sized luggage is likely to get, and an interior compartment deftly handles dress coats and slacks. These deluxe bags were overkill for a one way flight to Spain. I wasn't sure that the visa would come through when I bought them, thought it wise to prepare then for extended travel.
That said, even if I wound up not needing the quality: first rate equipment. I got what I paid for.
VPN (VIRTUAL PRIVATE NETWORK)
I can go online on the road by tethering my laptop to my smartphone or by using wi-fi. My smartphone connection is secured by the cellular service provider. The wi-fi connection may not be secure at all. In my email list managing days for TransitPeople, I expected at least one missive a week from a hacked account, likely hijacked while the innocent victim entered account information via wi-fi.
To stave off snoopers, I can use wi-fi with a "virtual private network," or VPN. NordVPN, Private Internet Access and other commercial VPNs operate global networks of servers. I fire up wi-fi, then hook up to a VPN server in Singapore, France, Barstow, the Clintons' bathroom closet, as I see fit. A lock appears on the network connection icon on the taskbar. Web sites see traffic coming from the VPN, and not from me.
I expected configuration headaches, but found ee-zee online instructions for setting up VPN in Linux, presume that similar handholding is available for Windows and Mac users. An account goes for $40 – $70 a year. Free VPNs haven't been charitably reviewed; I haven't tried one.
Two caveats:
(♦)  Online nogoodniks eagerly employ VPN to mask identities, and some major sites balk when first accessed from a VPN address. I can use gmail with VPN, but not from an email client, at least not right away; I must first log on via web, presumably to assure Google that the password-holder from the unfamiliar VPN server is really me. Facebook and other sites present a captcha screen, insist that I prove I'm not a robot.
(♦)   Set-up requires some technical chops. Not a lot, but some. I suggest sounding out a geekily inclined friend.
U.S. GLOBAL MAIL FORWARDING
I have gone paperless wherever possible, have canceled every regularly-arriving hardcopy missive I could think to cancel, but still expect some materials to be sent to my old San Francisco address. Said materials shall now be forwarded to U.S. Global Mail. My $150 one year subscription entitles me to a U.S. address and online account access. When paper mail arrives, I can pay to have it opened and scanned, can then eyeball it from abroad.
U.S. Global Mail looks well run, and staff promptly field phone calls. That's to the good. To the bad: they wait until the last screen of the sign-up process to inform you that you'll need to upload picture ID and a notarized form 1583 to receive forwarded mail from USPS.