Copenhagen and Zurich have to be two of the world's best cities for life without a car.  I write 'have to be' because my visit to each was brief; I acknowledge that a longer look-around might dilute my enthusiasm.  But I can't believe I'd see anything to dilute it very much.
I hope I sound impressed.  I was.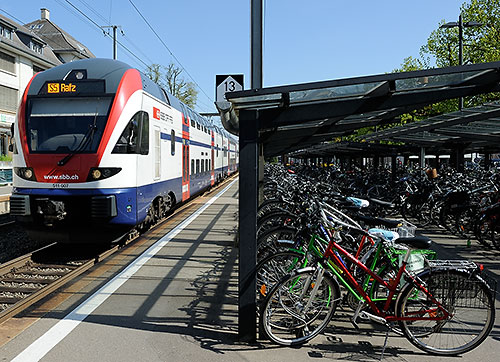 If I pull a flat EKG tomorrow or live to see President Ed Snowden swing a putter on the White House green, I'll die knowing that I visited two cities that fulfill the environmentalist's dream.  Tokyo's transit infrastructure is far larger, but Tokyo sentences straphangers to hours of sore-footed, cheek-to-jowl squirming in cattle car rush hour trains.  I'm sure Copenhagen and Zurich see their share of standees, but riders usually get a seat, and the seat is in a clean, attractive train or bus that runs frequently.  The carfree have and eat their cake.
I would support strong measures to restrict the personal car in these transit-meccas-that-actually-work, short of bashing in garage doors and heaving confiscated SUVs into rolling metal crushers.  (Hmmmmm … )  I wouldn't fear robbing the middle class of significant amenities still enjoyed by the rich.  I think many or even most Americans would be plenty content with their getting around options in Copenhagen and Zurich, although I doubt they'd like the graffiti in these cities any better than I did.
Zurich
I read about Zurich in I-just-plugged-it-in-my-last-post Transit Metropolis, on several transit geek web sites and on the many helpful web pages crafted by one Andy Nash, a former director of the San Francisco County Transportation Authority.
(Mr. Nash seems like a gentleman, but gets the blame for an online essay I can hardly stand to look at, subtitled What if Southwest Airlines ran the Muni?  Please, sir!  Congress should consider banning such dismal hypotheticals.  How about What if the U.S. had never invaded Iraq?, if you're so determined to depress me.)
Atlantic Cities also has an online timelapse showing how much Zurich getting around is accomplished by tram.  All the transit geeks seemed to want to marry the place.  I bought a ticket.
* * * * *
The Zurich Transport Network hosts several fat .pdfs showing off their system, and I'm going to dare you to download and ogle these as you savor my immortal prose.  The first big .pdf shows the grid of the S-Bahn, open since 1990 and now the regional transit backbone.  S-Bahn trains are big, electric, Wrestlemania-ready CalTrain/Metrolink type bruisers, with lotsa seats and ritzy interiors fit for a Swiss banker.
S-Bahn trains run as infrequently as commuter trains in the Zurich 'burbs and more like a metro at central city stations served by multiple S lines.  When I rode into town from the airport, I chose between trains running every three to eight minutes.  (Including the inter-city service I'll describe a few paragraphs hence.)
And this, mind you, is only the backbone. Download the second fat .pdf, and behold the Zurich city system map in all its glory.  Plenty of bus routes, as you'll see, and plenty of trams.
Zurichers have been getting around on trams for over a century.  That's one reason they killed a 1973 referendum to battle congestion and pollution problems with a big buck 'U-bahn' metro.  Liberals feared it would poison the city's character.  Conservatives liked the idea of stretching a franc by building on an already-excellent tram system.  Zurich also phased in a high tech traffic signal prioritization program, and inflicted the hurt on drivers with a squeeze on parking.
Much of the country is transit friendly.  I chose between twice-an-hour inter-city trains for my trip to Geneva, even more frequent service to visit Basel, and found full-fledged urban transit networks awaiting in both cities.  Riders can take in some jaw-dropping scenery on those long trips, and Switzerland isn't shy about promoting the views to tourists.  But those inter-city trains serve locals, too.  About half of the available rides from Flughafen Zurich were on inter-city rigs.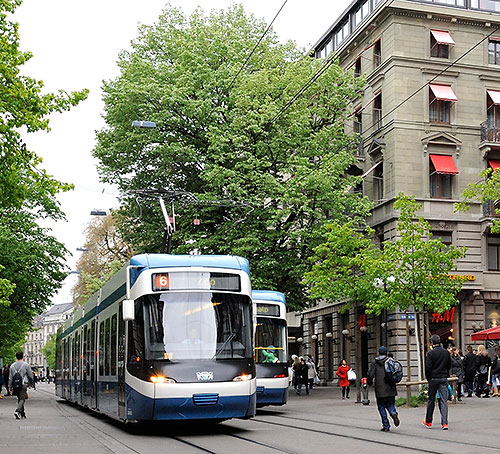 Zurich's fare structure favors frequent riders.  A yearly 1-2 zone pass for the city proper goes for around $815 USD, or $68 a month.  That's not bad for a pricey country; my seat mate on the plane told me that Europeans jump on temporary gigs in Switzerland for the high salaries.  ZVV's farebox recovery ratio is 48%.
Copenhagen
UU BaselCopenhagen does have a metro, a zippy driverless system similar to what I gushed over in Vancouver.  Breathtakingly short headways are a selling point for these pilotless UTO rigs; most hours, Copenhageners cool their heels only two to six minutes between trains.  The Metro serves the airport, and will add 15 kilometers to its current 20 when the Circle Line opens in 2018.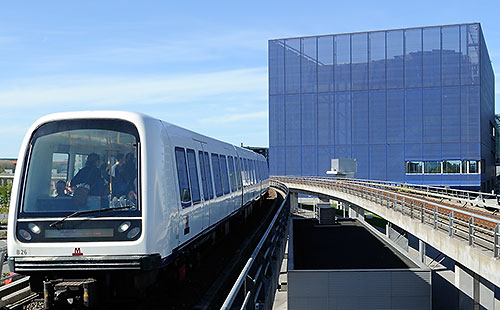 Nice, but not the Copenhagen transit lead actor.  That honor must fall to the seven lines and 170 kilometers of the S-train network.  S-trains are electric, resemble single-decker American commuter trains inside and out, and offer service frequency beyond the giddiest imaginings of a Metrolinker in smoggy San Berdoo: no worse than every ten minutes most hours at every S-train station in the system.
Like Stockholm, Copenhagen planned decades ago to shepherd growth around transit-centric 'new towns.'  Danish planning tsars conjured up something called the Finger Plan in 1947, and pretty much laid out the S-train network on top of it.  The Finger Plan suffered some bruised knuckles in the early 1970s, thanks to auto-oriented sprawl, but survived the challenge and endures to this day.
Copenhagen is also served by a yet another glitzy rail network:  Oresundtrain, linking Denmark's eastern coast to southern Sweden across the fourteen year old Øresund Bridge.  These brawny trains touch down at only four stops inside Copenhagen city limits, and thus may elicit a big 'meh' from those not served by them.  That didn't include me: I pretty much ditched the Metro after I discovered my proximity to Oresundtrain, and rode the line to and from Copenhagen Central Station, and to the airport.
Interior shot below.  Makes you want to haul out the lounge jacket and bedroom slippers, doesn't it?  You might have to endure a full twenty minute wait for an Oresundtrain if you're headed to Sweden.  If you wish only a lift to the airport or to Copenhagen's central train station, you'll wait only ten.
I kid you not: ten minute headways to the airport for this speedy, rajah-ready ride.  I wheeled my rollaboard out of the hotel lobby at around 10:00 a.m. and was pulling it up the airport escalator a half hour later.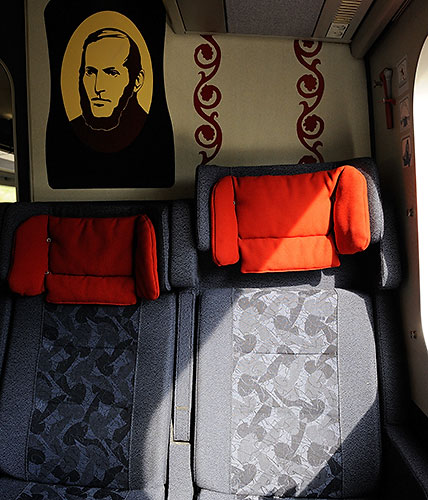 Trafikselskabet Movia is the tongue-twisting name of the agency that coordinates Copenhagen's subcontracted bus lines.  I sampled seats on a 9A and a 2A, but was inhibited by a tourist's predictable bewilderment with the spaghetti-like bus network, and was quite irritated to only discover this excellent map after returning to S.F.  I suggest printing a copy to bring with you, if you journey Copenhagen-ward.  I found no hand out as good in Copenhagen.
* * * * *
The real star of the city's travel network, though, may be the one I'm least qualified to judge: the bicycling infrastructure.  I left Europe ranking Copenhagen slightly ahead of Zurich as a carfree paradise.  The biking grid is the reason why.
See the rider in the shot above?  She's got a track to herself, doesn't she?  Inebriates and texters-behind-the-wheel might veer from their right of way and permanently maim an innocent cyclist pedaling at road right, but they hop curbs far less often, and that's what protects the cyclist here.
Cycle tracks, these protected lanes are called.  Old news to two wheelers, I guess, but new news to me.  Copenhagen claims 223 miles of cycle tracks.  I don't know if all or most are grade separated, but I do know that I spotted dedicated-to-the-bicycle, protected-from-cars bicycle thoroughfares all over the city.
The city's official web site sez that over half — over half! — of Copenhagers cycle to their place of work or education every day.  Four out of five Copenhagers have access to a bike; bikes outnumber Copenhagen cars five to one.
I have applauded U.S. cyclists at every turn, while happily acknowledging that they'd need a heavy game load in a twelve gauge to get me to pedal much in an American big city.  Too dangerous.  "You'll know you've won the war," I've said, "when you see me on a bike here."
If I moved to Copenhagen, I'd be a happy cog in the bike packs there within a week.
Back to the States
In spite of the lives and trillions lost in several wars, maintenance of the world's largest military budget — more than three times larger than second place China — and a lousy-and-getting-lousier rank for income inequality, the United States has still provided well for its citizens on some quality of life measures.  Work-life balance may be among the OECD's worst, and U.S. scores for education and life satisfaction are middle of the pack, but America still ranks top of the heap for income.¹
It also gets good marks for housing.  We quiche-eating new urbanism types may sneer at sprawl, but those American Dream ranch houses and lawns must look pretty mouthwatering to some Tokyo salarymen.  Even if you need a car to get to them.
The OECD offers no ranking for public transit services.  I'll fall back on the official transitophile web site metric, scientifically determined with your scribe's eyeballs and pants seat: United States transit offerings compare very, very badly to what I rode in western Europe.  And putting it as 'very, very badly' may be very, very nice.
I didn't appreciate how much my daily rides aboard Very, Very Badly had skewed my perspective.
Sure, I could read about great transit systems thousands of miles away, and ooh and aah over pictures.
That isn't what I was riding every day.
In L.A. I was limping along on a transit grid gelded years before my birth by the General Motors-backed consortium that destroyed the Pacific Electric infrastructure.  Transit TV ads tried to hustle me into get-out-of-debt schemes.  That was what private sector advertisers wanted to spend their own money on for Transit TV ads, at least back then: debt reduction pitches, so the sorry bus-bound SOBs could get their pink slips back and realize mobility liberation on the 405.
San Francisco let me get around more comfortably without a car, but on frequently jammed, delapidated buses.  And the longer I did, the easier it was deep, deep down inside to impute wisdom to the champions of the private car, and to cock an ever-more-interested ear to their almost pitying conclusion:  Tim, it doesn't work.  The transit pitch is just a rigged carnival ring toss for cram-em-in infill.  Look at where the pols live.  Look at where Al Gore lives.  You've been had.  When are you going to realize it?
I won't think that again.
I'm not a knee jerk supporter of maybe-they'll-fall-for-this ballot spending measures.  (Have a look at this analysis of gross misuse of San Francisco bond funds, if you think me too skeptical.)  I feel ashamed as an American to admit it, but the U.S. scores much lower than Denmark, Sweden or Switzerland on Transparency International's index of corruption in government.  And California ranks as only middling for honesty among the states.  The less trustworthy the elected officials, the more sense it makes to pull up the taxation drawbridge and holler for Ron Paul.
I still won't forget what I rode in and saw in Zurich and Copenhagen.  And Stockholm came close.
Norwegian Air will put you on a non-stop from L.A. to Copenhagen for four or five hundred bucks.  (But not in the summer; you'll have to wait a few months.)  The air hop to Zurich adds another $150.
Virtually everyone in Zurich speaks English.  In Copenhagen, English is so common that I could start conversations in my native tongue without any fear of seeming rude.   Neither country requires a visa of short-term American tourists.
Research the cities and get the transit apps for your smartphone, so you can offer a fair trial.  Go if you're a NASCAR dad or a dittohead and have read most of this post with a sneer.
With respect, I offer the challenge.  Go, if you doubt me, and see for yourself.
Update, 6/14/14:  ¹ But have a look at the discouraging take on America's median wealth in this CNN article.