"Bad trip idea, Tim," I thought, and grimaced as my dilapidated Soviet-style metro creaked into yet another gruesome station on the M3 line.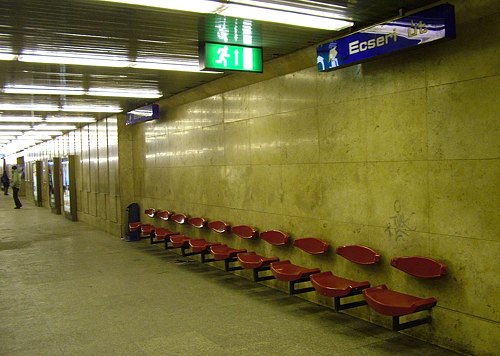 This was my first trip to Budapest, and my ride-in-from-the-airport impressions boded badly. Clunky bus to the subway, unpromising countryside, metro stations like the one above.
Resigned to a lousy visit, I disembarked downtown, climbed to street level …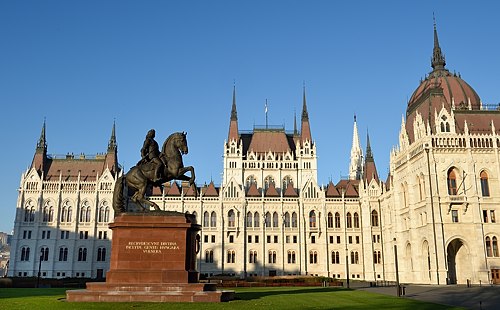 … and thereafter thought no more negative thoughts for beautiful Budapest. Never before have first travel impressions so misled.
Consider yourself forewarned. Give the city a chance before bolting back to Ferihegy International.
* * * * *
A mercifully short summary of Hungarian miseries endured in the century past:
(♦)  Allies overran Hungary after World War I, downsized the nation from twenty million to eight million.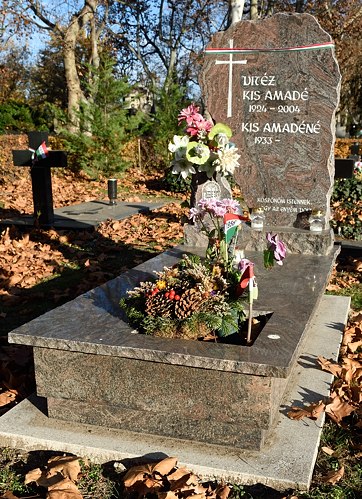 (♦)  Hitler strong-armed fence-sitting Hungary into lining up with the losers in World War II, then invaded in 1944.
(♦)  The Soviet Bloc claimed Hungary after WW II, killed thirty thousand while crushing a valiant rebellion in 1956 — a date still memorialized on hand-placed gravestone banners in Kerepesi Cemetery, as in the photo — and went away quietly in 1989.
Hungary has been a calmer place since, but a tour guide agreed that a life among such rapid ideological scene changes might encourage cynicism.  Consider Memento Park, tucked off in the suburban city outskirts: a now-kitschy collection of communist-era propaganda statues, likely of far less appeal to locals than to tourists.
That stuff was presented seriously to John Q. Budapest, not so long ago. How might I feel as an American while chaperoning Hungarians to, say, a boutique museum recalling the Dubya years: pasting up a host's game smile while describing that oh-so-quirky 2000 Florida ballot count, or the endlessly replayed propaganda footage we Americans saw of the toppling Saddam statue in Firdos Square?
A nice yuk for an uninvolved Budapestian, perhaps; not so funny for me. The only local I saw at Memento Park was the amiable clerk who sold me a souvenir CCCP passport. That probably doesn't evoke many smiles in Budapest, either.
* * * * *
Budapest built the second metro on terra firma, and the first on the European continent. I now kick myself — figuratively, at least; it's hard to get my heel that high while typing — for missing stations on the M1 line, built from 1894 – 1896.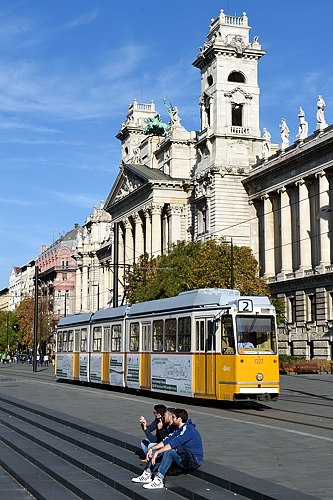 "Excellent" is my rating for city transit services overall. Most metro cars are spiffier than the clunker that ferried me into town on the M3.
* * * * *
I've gotta work this in somewhere: I took a 3:30 a.m. cab from my hotel for a wee hours flight to Frankfurt, and was amazed to see so many Hungarians still strolling the city at that hour.
* * * * *
Budapest = hilly Buda, east of the Danube, and flat, urban Pesht — that's how they say it; with an 'h' — to the west. The closer you get, the more the distinction matters. The two cities became one in 1873.
* * * * *
Practical information: I put my smartphone online quickly with a prepaid SIM card from a Vodafone desk at the airport, but suffered occasional connectivity issues in town. Budapest offers no transit IC card (that I know of, anyway), but I had no trouble buying a seven day travel card from the airport's BKK desk (and soon learned to have this card ready while entering the city's metro, no Shangri-La for fare cheats).
The frequent-running 200E bus ferries fliers from the airport to the Kőbánya–Kispest station; get on at the terminal, ride to the end of the line.  I found no use for Budapest-specific transit apps, but moovit fired up at the Kelenföld vasútállomás bus pad, gracefully shepherded me to Memento Park.
* * * * *
Yes, many posts of late, and no, not written for any particular reason. We retirees can yield to whims.  Merry Christmas!