(♦)  Istanbul ranks with Athens and Rome as a 'must see' for history buffs. King Byzas, Constantinople, Suleiman the Magnificent and the Ottomans: ancient humans were busy here.
I hadn't understood this, frequently pictured myself with a dunce cap while conducting pre-trip research. 'Course, I'm the same guy who hadn't known that cricket is popular; you'd expect such dummy-hood to extend to other matters.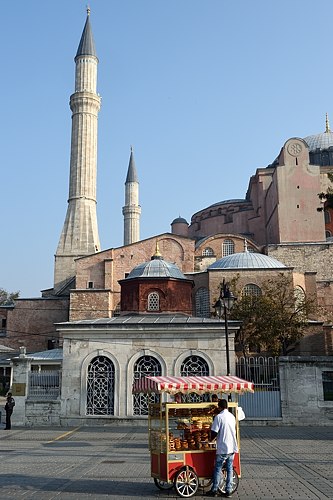 (♦)  The other-worldly splendor of some city mosques is un-ignorable. I don't doubt that Istanbul provides temporary shelter to its share of unappreciative passers-through: business travelers interested only in post-conference highballs and fornication; grumpy teenage dragged-alongs who care only that Turkish hotel voltage won't fry their Xboxes.
Even these philistines will be dazzled by mosque architecture. You can't not notice those domes and minarets, can't not be impressed.
(♦)  I spotted many tourist herds clunking along after banner-toting tour guides, and relatively few lone wolf sightseers like me.  Why?, you may wonder, in a city that struck me as safe and friendly.
Two possible reasons:
#1: English speakers are few and far between outside the Sultanahmet district, airport and big league international hotels. I had no trouble getting around with a GPS signal on RMaps and a transit map, but still communicated often in pantomime.
#2: Sultanahmet district tourist hunters. These free market champions know English all too well, and are paid in commission for steering prospects to local vendors. Others work solo as sellers of tourist bric-a-brac.
Unchaperoned pedestrians who exude even a whiff of Lonely Planet or Rick Steves can expect to be hailed aggressively and often. (e.g.: Excuse me, my friend! You look American! What is your city, my good friend?) A charitable inch given in response will be ruthlessly leveraged into soon-regretted furlongs. Predator Pete's Used Cars might send hard sellers to Istanbul for advanced training.
I know how to say 'no,' can say it rudely when I have to, but dislike treating fellow humans this way, and thus suffered before the withering attention of the tourist hunters. I twice had to flee comfortable seats to escape them.
(♦)  Istanbul is full of stray dogs and cats. Authorities tag the ears of canines vaccinated for rabies, otherwise give them little heed. Turks may feel that a stray's hungry, dangerous life in the elements is better than no life at all.
I'd be surprised if Pew Research or some other egghead-y screed couldn't correlate strays per capita with poverty, homelessness and other undesired metrics, will stand my ground in regarding such cast-asides as a bad sign.
(♦)  Turkey is probably a good place to shop for a Turkish rug. Sorta makes sense. You may fruitfully join such shoppers, but only if you do real homework before your trip, arrive with budget and shopping plans, and are prepared to cart your new pride and joy home with you.
(♦)  Ninety-eight percent of Turkey's seventy-five millions are Muslim. I heard mosque prayer calls every morning from my hotel, and will guesstimate that between a quarter and a half of female passersby wore hijabs.
I'm always eager for a chance to make a public fool of myself, and may eventually do so here by pontificating at length on impressions of the Muslim world. In the meantime, I'll confine myself to the following:
Before my travels began, I regarded women in hijabs with sympathetic apprehension. I pitied them for the likely miseries endured in airport security lines and rural regions, but never would have exchanged pleasantries with a woman wearing one.
Today, I don't hesitate. The hijab means they're Muslims. So far as I can tell, that's all it means.
I feel differently about the less frequently seen niqāb. Not practical, not fair, too unwieldy, and arguably not Islamic.
(♦)  Some may advocate a boycott of Turkish tourism. President Erdogan has cracked down hard on Kurdish rebels, likely while expecting only wrist slaps and florid speeches from a West desperate for Turkish help on refugees and ISIS. I knew and still know next to nothing about Turkish politics, didn't feel I had reason to skip the trip.  Feel free to think less of me; maybe you should.
(♦)  Practical information: TurkCell and Vodafone will sell a prepaid SIM card for your unlocked cell phone at Istanbul airport. The Havalimani metro station is downstairs at the airport; visitors can buy an Istanbulkart IC card from a station machine, employ it on metros and trams while in town.
Update, 12/29:  Americans will need a visa.  I grabbed one from Turkey's easily navigated e-Visa site, suffered so little that I forgot to mention the visa before clicking 'post.'  (Costs twenty bucks, though, and the resulting print-out will be one more piece of paper that can't be forgotten before the trip).