Doha is the capital city of Qatar, a pint-sized, filthy rich monarchy that juts into the Persian Gulf from the eastern flank of Saudi Arabia. I'll wager that most Americans have never heard of it, and that the few exceptions associate it instantáneamente with Qatar's sponsorship of powerhouse international news broadcaster Al Jazeera.
I suggest a firm uncoupling of the two. Admirers of Al Jazeera exposés may infer that its state sponsor must be egalitarian, environmentalist, feminist, progressive, a keffiyeh-crowned Stockholm of the Middle East.
Hah hah hah hah. Not so. Not hardly. The emirate pulls a dismal 128 on Reporters Without Borders' press freedom index, behind Afghanistan and Zimbabwe. Reporting on the royal family is verboten; violators risk prison time.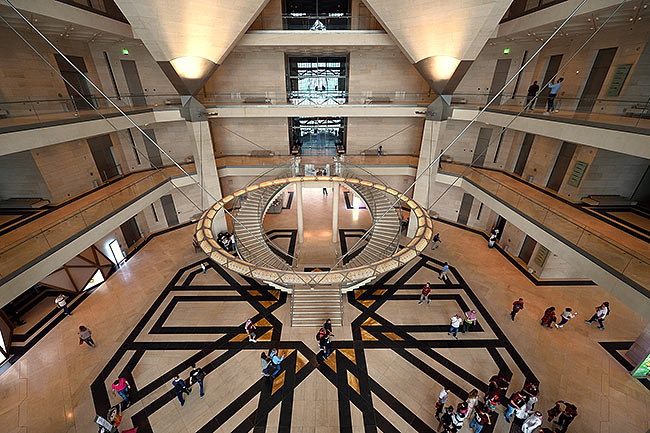 Al Jazeera newsies may boldly blaze new journalistic trails (as in their valuable and apparently suppressed four part series on pro-Israel lobbying in the U.S.), but only while gazing discreetly away from the unexamined thobes of their Qatar Sugar Daddy. Any criticism I might share in this rinky-dink blog will likely be more than you'll get from Al Jazeera's eighty world news bureaus.
I don't have much criticism to offer. Sorry! This post aspires only to share Doha tourist impressions. Many would enjoy a visit there.
(I didn't, not especially. Too much traffic. Americans don't need to travel to be surrounded by cars.)
---
(♦) Nearly nine out of ten Dohans were born overseas. English is a default lingua franca, even if the rest of Qatar pulls low scores on the English proficiency index. I chatted up locals in English as readily as I might in Copenhagen or Oakland, Amsterdam or Bakersfield.
(♦) No one told me so, but I think Qatar wants to be sure you go away when you're supposed to. Legal expat, fine. Welcome to Qatar! Stowaway?  Unh-unh. A Qatar Air staffer called up dozens of ticket holders for a polite third degree at Madrid Barajas airport, yours truly included. She wanted me to show proof that I had a ticket to leave. Very nice about it, but she still wanted to see it.
Qatar boasts the planet's highest gross national income per capita. Think about that for a second. Not "among the highest." The highest. We travelers may be forgiven for wondering if those Richie Rich Qataris might be persuaded to shed some of that wampum our way if we fly in and then conveniently forget to leave.
(♦) The nation's wealth doesn't lift all boats. Construction detours near the Msheireb metro station sent me along narrow, potholed streets under shabby gray tenements, perhaps housing migrant workers. A Doha work permit doesn't come with a limo. I defer to this BBC report, but should add that I saw nothing so grim, and walked the above-mentioned nabe after dark.
(♦) I remember only occasional niqābs in Dubai, Istanbul and Marrakesh. In Doha, I saw lots and lots, often worn by women strolling in small groups, sometimes with children.
The thick Marhaba tourist guide in my hotel room included a couple of interesting Don'ts:
ask an Arab lady for information or directions if you are a man. Respect the fact that some Arab ladies are private people in public places. They are more than willing to help other women, so if you are in a mixed group, let the women do the talking!
be offended if your handshake is refused by a Muslim. Handshakes are often refused to members of the opposite sex. It is not meant personally, but simply a religious prohibition applicable to Muslims and non-Muslims alike.
(♦) Doha struck me as a city built to accommodate cars, like Houston or Los Angeles. It didn't accommodate them gracefully while I was there, but that may be because I visited during the Fifa World Cup. "Traffic isn't usually this bad," several drivers said.
Pre-trip research suggested that the city's bus network caters mostly to migrant guest workers. Tourists should expect to do much getting-around in taxis, Ubers or rented cars, at least when visiting the many destinations ill-served by Doha's metro.
Dohans struck me as polite and gracious when not encountered behind a steering wheel. In the driver's seat in significant traffic? A different story. Jekyll and Hyde. Shameless horn honkers, although not in a league with motorists in Cairo.
(♦) The shot above shows pleasure boats and luxury housing in the Pearl, an artificial island on the city's north side. "A little like Marina del Rey," mused I, during my stroll.
Tourist tastes differ. If you like what you see in this photo and in the second Pearl shot in the photo directory, you may be a good candidate for a Doha vacation. (Although not in the summer.)
---
Feast your eyes on this shot of the Doha metro's interior!
Click here to ogle it full size. Drool! Don't restrain yourself! Picture yourself wriggling a contented fanny into those sumptuous carmine cushions, or sliding sandal-clad tootsies across that spotless wood grain flooring. You deserve this red carpet treatment, don't you?, when riding planet-friendly public transit.
Nicest metro interior I've ever seen. And this isn't even the Gold Club car! Those nutty Qataris have equipped their metros with first class, extra cost Gold Club cars that are even plusher than this one.
Doha's metro is new, opened last May. The dogleg line to the airport opened all of a week before my visit. Riders are pampered.
See the two uniformed gents in the photo above? They flanked the turnstiles just to show customers how to wand in their travel cards. Another, out-of-camera range agent stood near the Travel Card dispenser, ready to assist with payment. I counted two or three agents on every platform.
The metro is still lightly used, and to me suggested well-heeled backers eager to fund a system without adequate knowledge. Example: at the Souq Waqif station, I could descend from street level only by elevator. I saw no stairs, and the 'down' escalator was cordoned off.  I shudder to imagine any similar bottleneck at a heavily-used big city metro entrance at rush hour.
Dubai still gets my vote for the world's glitziest metro seen to date.
---
Practical tourist information:
(♦)  Betcha you can visit without a visa.
(♦) I spotted only one ATM in the Hamad International arrivals hall, but had no trouble persuading it to spit out Qatari Riyals.
(♦) I had to wait nearly three-quarters of an hour to buy a prepaid Ooredoo smartphone sim card, despite three staffers on duty at the airport Ooredoo kiosk. The World Cup again: "We're not usually this busy," said one. I saw no alternative provider.
---
For high-res copies of the shots above, and a few more, please visit the photo directory: