Those are the Asian cities I visited, lucky me, and I can prove it: you'll find photo sets at:
Tokyo: https://www.flickr.com/photos/36217981@N02/sets/72157642352812245/
Seoul: https://www.flickr.com/photos/36217981@N02/sets/72157642390067303/
Shanghai: https://www.flickr.com/photos/36217981@N02/sets/72157642406170383/
Fellow transit aficionados will recognize these burgs as home to some of the world's most formidable metro networks, by system length and annual passenger rides.  I spent much of the last decade telling small children that such places exist, usually with the wistful aside that I hoped to see them for myself someday.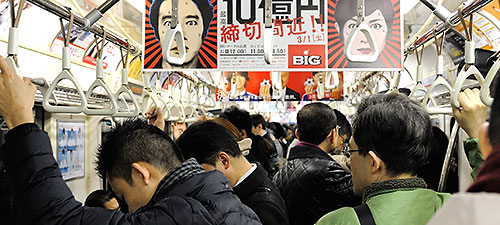 I'm retired, no longer on emergency call to field tripping TransitPeople classes, and healthy enough for international travel (in my own stoop-shouldered, hobble-kneed, geriatric way).  I'd want to swat myself plenty hard if I lost that health before I saw these cities. 
My Houston trip had also rekindled a dormant interest in transit issues.  It was as car-centric as car-centric gets, and had included major negatives.  Why not visit a few cities on the other end of the spectrum, and see how they work?
So, off I went.
I'm eager to share impressions, but first want to revisit a caveat emptor given in my 'older and wiser look back' post: I'm not an expert.  I spent only a few days in each city, interviewed no transit agency staff or local critics, and fired up the search engine only occasionally to dig for Asia-related statistics. 
I am a tourist interested in transit.  You're sitting in my figurative living room, listening to the old geezer yak about his trip while he shows off Kodachromes.  If that's enough for you, read on.
* * * * *
Relatively easy international travel for tech-savvy English speakers
The trip was much easier than I'd expected.  The whole shebang went almost as smoothly as my visit to the South.
My guesses why:
(♦)  Technology.  Smart phones may be tracking devices that make phone calls, but they're also a boon to travelers.  I can download detailed off-line maps, currency converters, city-specific transit apps, phrasebook dictionaries (with audio files that squawk the words) and offline language libraries for Google Translate.  My cell phone fired up in all three countries, albeit at 1G speeds in Seoul and Shanghai.  I could tether the smart phone to my computer for a secure e-mail connection, or use wi-fi to check news sites.  (VPN is still over my head.  Maybe another codger can explain it at the next senior's bingo.)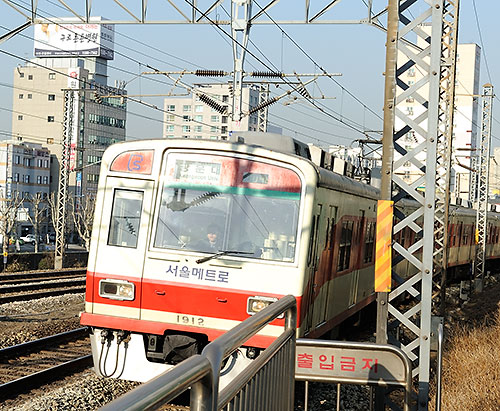 Then there's the internet, and what I can learn before I leave.  Hundreds, thousands, perhaps tens of thousands of generous users want to tell me how to ride the Tokyo subway, what itineraries will and won't qualify for China's '72 hour transit without visa,' how to get from Narita Airport to Tokyo on the N'EX train or a limousine bus.  Some have personal web sites, others create 'how to' videos for YouTube.  If I have questions, I can post to travel forums at Trip Advisor, Lonely Planet, FlyerTalk.  Dependence on dog-eared guidebooks is no longer.
(♦)  English as Lingua Franca.  Maybe it's not right or fair.  Esperanto or another auxiliary language might have made a better world standard.  English is idiosyncratic, unreasonable.  (Try explaining their, they're and there to a non-native speaker.)
But, justly or not: if a global lingua franca exists, English is it; the internet even offers an acronym for it.  We Americans get a huge, huge break when overseas.  Many restaurants cheerfully offered English menus; I found English subtitles on street signs, in transit systems.  Few Koreans and Chinese spoke English, but quite a few Japanese did.  If I spoke only French or Spanish, the trip would have been much tougher.
Transit cities coexist with cars
If I think 'transit city,' I can imagine a woodsy Shangri-La where kids pedal bikes over cobblestones, streetcars meander under bougainvillea boughs and flatulent four wheelers are far from sight.  CicLAvia or Sunday Streets on steroids, 24/7/365!
And 'imagining' is just what I'm doing, at least so far.  I've never visited a city remotely resembling this arcadia, and sure didn't in Asia.
Tokyo might be as good as it gets for the transit rider (in some respects), but there are plenty of cars in Tokyo.  I watched traffic jams from my Seoul hotel room, sidestepped Seoul motorcyclists who ride the sidewalks with impunity.  In Shanghai, pedestrians can take their lives in their hands.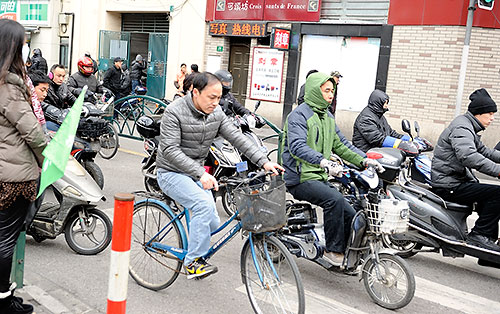 These Asian cities coexist with heavy traffic as New York does.  You can live comfortably in Manhattan without a car, but do you expect a car free Broadway at rush hour?  Cue the big Sam Kinison laugh: oh, ho ho ho.
It's tough to beat heavy rail.
This point makes me feel a bit hypocritical.
I don't want to be.
I feel no less strongly that transit systems should be judged first by how they operate unglamorous, work-a-day bus routes that rank and file customers depend on.
I'm not an accountant, can't crunch the numbers, and know that the numbers matter.  I've already been persuaded that glitzy rail systems make little sense for some mature, already-built-around-the-car American cities, and am willing to be persuaded that they don't make sense elsewhere, too.  (Although I must note that heavy rail construction costs in China have averaged around 500 million yuan per kilometer, which I calc out to roughly $130,000,000 a mile.  Far less than costs here.)
That said: my Asian travels hammered home that pesky 'you get what you pay for' problem.  Sitting in traffic and waiting for the light to change in the Gold Line or N-Judah or Rapid Bus or 14L does not compare to blasting along on your own right of way in the Tokyo, Seoul or Shanghai metro systems.
C-R-O-W-D-E-D subway lines
Subways in all three cities were more crowded than what I'm accustomed to in the Bay Area.  "Rush hour" started earlier and ended later; even mid-day trains carried significant loads.  I never felt assured of a seat.
I remember only center-facing bench seats.  These squelch any opportunity for touristy sightseeing-by-the-window, but allow more room for standees.
Tokyo didn't live up to its fearsome reputation for crowding, at least not in my limited travels there.  (Although masochistic me intentionally rode many trains at rush hour.)  My guide-for-a-day Hiro — a fellow transit aficionado scheduled by the terrific Tokyo Free Guide program — told me that one can indeed find "oshiya," or platform pushers, helping to cram passengers between the doors of overstuffed trains.  I did see agency staff direct riders during rush hour, but with polite voices only, and no manhandling.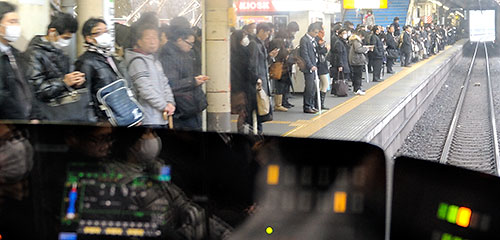 Seoul was significantly worse.  (I can't resist a sidebar: I won't soon forget a young woman there who dashed down the stairs toward an about-to-depart train, faced a door blocked solid with male torsos, and, with momentum from the stair dash, simply hurled herself into the wall, like Jim Brown barreling over a couple of linebackers.  Maybe she'll meet Mr. Right that way.)
Some Shanghai subways were worse still.  An Arizona expat told me he chose an apartment near the #10 to avoid the fearsome crowds on the #2.  The southbound #8 I boarded at Shiguang Road — a likely low income neighborhood, judging by what I saw nearby — became the single most crowded subway car I have ever gasped for air on.  I suspect, but don't know, that Chinese transit imperators don't dole out service equally.
Frequent service
I rarely waited more than five minutes for any metro in Tokyo, Seoul or Shanghai, and learned to pay little heed to signage indicating waits for coming trains.  Why bother?  The trains felt a bit like airport moving walkways; if I missed one, I could board the next a few minutes later.
Clean trains, clean stations, clean bathrooms
Here's a photo snapped in the Tokyo Metro: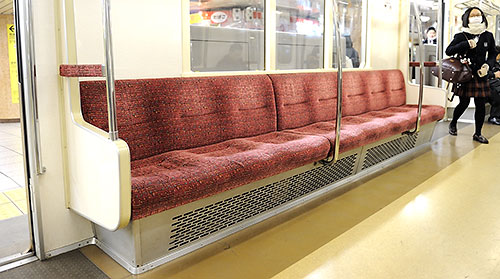 (I'll get to that face mask a bit later.)  I didn't cherry pick, didn't try to stack the deck for Japan.  If you ride the subway in Tokyo, you'll see upholstery like this.
Tokyo and Seoul trains and stations were neatnik clean.  Shanghai's offerings were shabbier, closer to what I expect on the Red Line and BART.  (Although BART and Red Line customers get to sit on real cushions, unlike the no-trust-no-cushion seating in Shanghai.)
Graffiti?  None.  Zip.  Not one scintilla, not in one train or station.  (I did see some on building walls fronting the train tracks on the way out of Tokyo.)
Hiro attributed this dearth of graffiti to "Japanese manner."  A Seoul station security staffer guessed that tagging just hasn't caught on in his city.
I have wanted to wrap a thick sweater around my nose before venturing into some BART bathrooms, and haven't forgotten bathroom-less rail stations in L.A.  Tokyo, Seoul and Shanghai stations include bathrooms, and they're perfectly usable.
New York City not in first tier
Here's a photo from a typical station in the 286 mile Seoul metro network: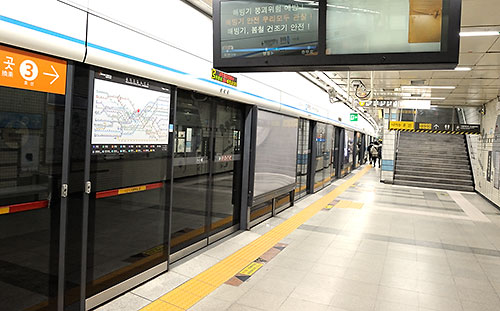 And, a couple of paragraphs down, a 2011 shot from the Grant Avenue station in the 232 mile New York City network.
(If it's any consolation, the cars I rode in the colossal 334 mile Shanghai system were only slightly nicer than New York's, although the stations were more attractive.)
My 2004 copy of Subways of the World anoints New York City as the world transit leader, thanks to twenty-four hour service and express tracking.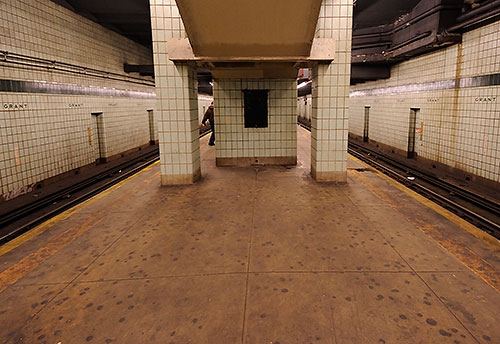 I guessed author bias, but also assumed that the author wouldn't be that far off; I left U.S. shores confident that the system I rode in New York City in 2011 would be roughly on par to the best of the Orient — that, in short, the United States boasted at least one world class metro network.
I don't feel that way anymore.
I wish I could.  Some may disagree, but I also have company.
I was surprised by how often I felt defensive about my country while abroad, how I wanted my good ol' U.S. of A. to look less shabby.  It really hurt to show Hiro these photos of the squalid interior of a San Francisco 14 bus, and ask if he'd ever seen anything similar in Tokyo.  (The answer: an emphatic no.)
If it's any consolation: Big Apple straphangers may feel honored to learn that they're helping to pay for U.S. military bases in both Japan and Korea.  Please throw out your bosoms with pride, New York, the next time you step over years of accumulated filth on a train platform.
Profitable, private sector Japanese rail lines, and land use near stations
This is probably the most important takeaway, and the one I'm least qualified to yak about without a lot of research I'm unwilling to do.
Nearly all U.S. transit agencies require buckets of government funding to break even.  BART fares cover about 2/3 of costs; SFMTA fares cover less than 1/3.  Many Tokyo rail systems, in contrast, are privately owned and profitable.
The bankroll often comes from related real estate operations.  Today the very much in-the-black Tokyu Corporation (Please note the 'u' at the end, Tokyu, not Tokyo) hauls in a thumping third of its take on real estate operations, and another twenty percent from retail.  (See page 25 of this .pdf'd article.)
Rail riders in these cities can expect to see some colossal retail complexes adjacent to major transit hubs, at least on a par with Toronto's PATH Network and Montreal's Underground City.  I found it much, much tougher to track down individual shops in the Central Tokyo and Shinjuku station retail labyrinths than to navigate the transit system itself.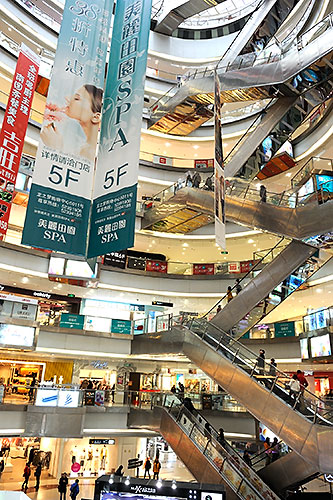 Angelenos can get a small taste of this kind of next-to-the-Metro-station development at the Hollywood-Highland center and at Wilshire-Vermont.  San Franciscans can get a larger taste at the downtown Westfield Mall.
You don't need Warren Buffett's eagle eye for a cash flow statement to recognize this revenue stream as important.  A grade schooler trading Halloween candy out of his trick-or-treat bag would know it's important.  That said: I've never seen an investigation in the U.S. press of who gets to rake in the hay from transit-related real estate development.  (Perhaps reporters know what their bosses own, and don't want to find themselves moderating the 'casual encounters' forum on Craigs List.  If that pays anything.)  I know San Francisco taxpayers will pay for the Central Subway.  I don't know who owns the land near the new stations, or who will make money from it.
Thanks to my guide Hiro, I watched the change of guard at the Shibuya station between a conductor with the public sector Tokyo Ginza Line and a private sector counterpart with the Tokyu Corporation.  The first stepped out of the train; they exchanged pleasantries; the second stepped in, less than a minute later.  The same train continued west … but on a line now owned by Tokyu, with Tokyu-set fares, to stations on Tokyu-owned land.
I can't believe that opportunities for this kind of development don't exist in the U.S.  If they get a generous lease on a passel of property and the rights to put condos and a shopping center on it, Gigantoramus Construction ought to be interested in extending a current metro line to service it.  That's how Henry Huntington made money on the Pacific Electric system.  And if that metro line is never going to be extended otherwise, well, I'm interested, too.  It's part of the financing picture, and ought to be done transparently.
(If, of course, the state can offer water to thirsty residents in a new development, and it's not catty-corner from a San Apocalypse fault line.  And if it's all desired.  What many communities crave most passionately is to be left alone.)
Tokyo and Seoul don't leave money on the table
Here's a shot of a kiosk on a Tokyo subway platform:
Right on the platform.  I have mixed feelings about this location, but, for the record, there it is.
Ascend to mezzanine level in Tokyo and Seoul, and you're bound to find someone who wants to sell you something.  I also remember more forms of advertising in the trains and stations, all of it less objectionable than the transit advertising I expect in the U.S.  (Particularly wrap-all-the-way-around-the-bus-or-rail-car advertising, and don't-get-me-started Transit TV in L.A.)
* * * * *
Some odds and ends:
Tokyo transit misrepresented to the tourist
"So that's the famed Tokyo rail system," exclaims the would-be American visitor, after finding a map like this online.  "122 miles!  Not as big as New York's!"
Nope, it's more complicated than that.  Tokyo rail offerings are balkanized between public and private lines.  You've gotta consider this map, too, which shows the huge, huge rail network owned by JR East.  Tourists might not venture far outside the Yamanote Line circle, but I still took lots and lots of JR East trains while in Tokyo.
Finally, there are what might be called 'indy' operators, which may own, operate and set fares on a single line.  These aren't adequately represented on any one map, although Flickr user Kzaral gave it a much-needed go, here.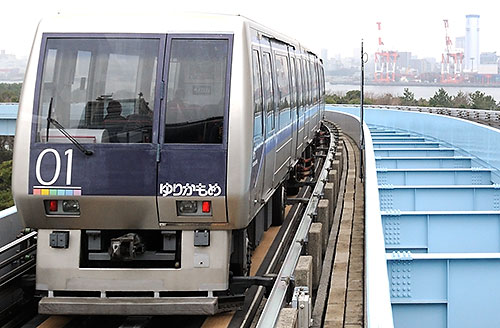 Hiro estimated that a newcomer might need six months to learn the ins and outs of Tokyo's transit maze.  I shall remove weight from my lazy retired duff long enough to dust off my copy of Transit Metropolis, and quote from Robert Cervero on page 185:
"Tokyo's metropolitan rail network — counting both publicly and privately owned railways — is, by far, the world's largest."
It's certainly the king of the transit cities I've visited so far.
Big isn't the same as nice
Hiro said he prefers Singapore's rail network.  I haven't visited Singapore, but enjoyed Vancouver's SkyTrain more than anything I rode in Asia.
Lots of station personnel in Shanghai
Suitcases and backpacks have to go through an airport-style metal detector.  Two staffers supervise the detector, and more staff direct comings and goings on the platform.
Get the Seoul Metro hard copy map, or the Seoul Subway app
I struggled with the .pdf'd Seoul Metro maps found online.  The map incorporated in an Android app, on the other hand, clearly shows transfer points between lines.
The free fold out, hard copy map is just as good.  You should be able to grab one for free at a station security office.
Those Japanese face masks
A five pack at the Yasukuni Street 7-11 cost about $5.  I don't doubt that they inhibit disease, if only by discouraging contact between filthy fingertips and vulnerable lips and nostrils.
I saw few in Korea, fewer still in Shanghai.  In Tokyo, twenty percent or more of my fellow riders were masked.  Some may forget they have them on.  Mine was cozy enough, particularly on a cold morning (until I gave it the heave for steaming up my spectacles).
In Japan, stand on the left in metro station escalators
Asian etiquette guides informed me that the Japanese don't jaywalk, are put off my public nose blowing, and accept and dispense money in trays next to cash registers, rather than by hand.
I consistently forgot to put the bills in the tray, and was forgiven by polite cashiers.
I also saw nose blowers and jaywalkers.  Not many, but a few.
There is one rule, however, that you must know in Tokyo, lest you be trampled or exclaimed about in a language unknown to you: stand on the left on Metro station escalators, and not on the right.  Just the opposite of BART.
Tim ain't playing.  Forget this at your peril.
Something up with Shanghai land development
I took this shot next to the catchily-named, rolls-off-the-tongue Xinjiangwancheng station, at the end of the line for the #10 subway.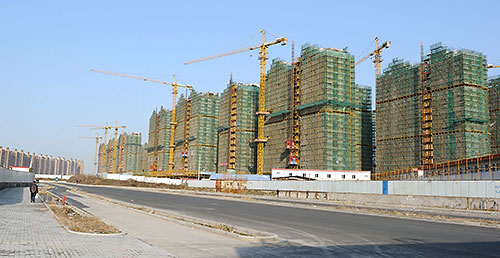 Looks like they've got a little more on the work order than a couple of kitchen remodels, doesn't it?
I saw development on a smaller scale next to the Jiading Xincheng stop.  I also spotted a real estate sales office here, encountered a sales crew on the station steps, and found real estate fliers on subway seats.
These are two of the newer lines in Shanghai's rapidly growing metro system, now the largest on terra firma.  (334 miles total, versus 286 miles for Seoul and 232 miles for New York City.)  Neither line was especially busy.  I suspect, but don't know, that the Chinese are funneling development around the transit lines that can handle it.
Easy rail riding with an IC card
These are the Asian versions of the TAP and Clipper card known to straphangers in California.  In Tokyo, you can buy a Suica, as I did, or a PASMO; they do pretty much the same thing.  Seoulites travel with a T-Money card.  I bought a Shanghai Smart Transport Card with my maglev ticket at Pudong International Airport, loaded 250 rmb on it and never ran low, although I rode the Metro all over Shanghai.
* * * * *
And finally, a point you might not expect from me:
A wistful look at auto-based development
Get interested in something, study it, become an expert.  Take a un-nuanced stance and defend it aggressively, either on principle or as the hireling of a think tank that wants to push the same view.
Much opining in the American press is done by folk who can be so described, and they often paint life in black-and-white shades.  We can right every wrong by voting for this or that measure, by supporting so-and-so candidate.
Some real life choices are that cut and dried.  Most aren't.  If I'm eight years old and can only afford one scoop, I'm going to smack my lips on one flavor and miss the rest.
Which leads me to choices about land development:
Maybe I suffer from grass-is-always-greener syndrome, and am attracted to what isn't in front of me.  I felt a little aghast in Houston, stunned by the colossal swaths of real estate consumed by freeways, freeways, more freeways, the homeliness and environmental profligacy of the frontage roads, Texas U-turns, and so forth.  I left thinking that Governor Rick Perry might really deserve to be President, if he can sweet talk a star programming team into giving up their Noe Valley Victorian on the J-Line for a Katy Freeway office park on his next job poaching trip out west.  Maybe America needs a first class B.S. artist in the Oval Office.
But now I'm in Japan.  There are private cars here, sure, but you have to be well-off to own one.  Japan's leaders have set up taxes and toll roads to keep them out of the hands of Central Tokyo's Everyman.  (But likely not out of the hands of bucks up campaign donors.)
Instead Everyman gets a train.  It's a clean train, and a prompt one, but you get to stand in it with your face mask with a few hundred fellow sufferers, and maybe if someone's sick and hacking away and the air isn't circulating, well, you get to get sick, too.  If you're female, maybe you get pawed once in awhile.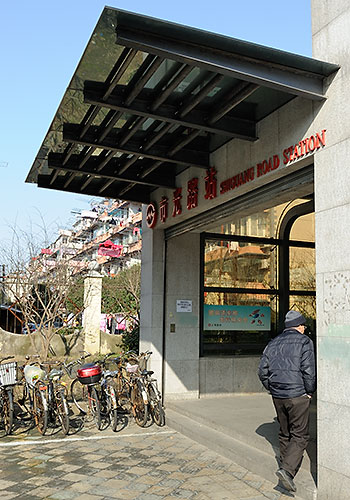 Crowded trains and crowded stations, day in and day out, groceries and briefcases schlepped wearily up and down escalators, absorbing the elbows and brusque shoulders of other harried travelers, and the stale air, and perhaps dreaming of a far, faraway land, where you could put down the convertible top, wriggle your tush 'til it gets a nice bite on a big bucket seat, kick back and hum along with the tunes on the stereo while you motor your leisurely way to work.  In a place where the government doesn't jam a master plan down your throat, where regular people get to own cars, too.
I know that seems like an odd, odd paragraph to come from a transit advocate (which I still am, that paragraph notwithstanding).  I'm glad to live in a transit first city.  Honest!
But I don't want to lead anyone astray, even in my little-attended corner of the web.  I have reservations.  Perhaps a topic for another post.