I fed data to my smartphone in Europe and Africa last month through prepaid local SIM cards bought at three airports: Turkcell in Istanbul, Vodafone in Budapest, Inwi in Marrakech1. I mostly camped happily with what I bought, and am encouraged to share my SIM swappin' experiences by the blank stares beheld when yakking about such swaps with other travelers. Your continent-roaming codger may know little about this stuff, but others seem to know even less.
THE BASICS, INADEQUATELY INTRODUCED
SIM stands for subscriber identity module. SIM cards slip into a tucked-away slot on your smartphone, allow the gizmo to connect with T-Mobile, Verizon, AT&T, the provider of choice.
You crave a photo. Cute little bugger, isn't it?  Kudos to Flickr user Brett Jordan for the shot.
If your phone is unlocked and can fathom communication protocols to be encountered abroad (as can my modern smartphone), nothing prevents you from swapping in a local standard, micro or nano-sized SIM to go online overseas at affordable rates.
WHAT I USED TO DO
I used Verizon global services, as explained in May.
Bucks up? First class flier? Look no further. The bandwidth might have been premium priced, but all I had to do was fire up the phone after touch down; global services Just Worked.
T-Mobile and other U.S. providers also offer global plans. I haven't tried them, can neither praise nor pan.
WHY I EXPERIMENTED
I had a ticket to Morocco, not covered by a Verizon data bundle. If I didn't swap SIMs, I'd pay a bank-busting $2.05 per megabyte. In contrast, I could shell out a measly $20 in Marrakech for a prepaid local SIM card providing several gigabytes.
In for a penny, in for a pound: I decided to SIM swap in Istanbul and Budapest, too.
SO HOW'D IT GO?
I referred often to a SIM wiki while researching my trip, and browsed city-specific tripadvisor travel forums to learn what cell provider kiosks I'd find in different airports.
Istanbul: I found kiosks for Turkcell and Vodafone after clearing passport control. I picked Turkcell, showed my passport, signed some forms, paid a now-forgotten price in the $20 range, and received my Turkcell card, with assurances that it would go live within an hour.
It didn't go live in an hour, or for my remaining two hours of wakefulness that evening. I brooded about back-up plans while I hit the sack, but discovered the next morning that I wouldn't need them: the Turkcell SIM had come magically to life. The smartphone start-up messages and settings menus looked as they always had in the U.S.. I had more cheap, prepaid bandwidth than I'd ever need, could tether the smartphone to my computer, watch all my fave Flintstones youtube channels right at the Blue Mosque. What a wonderful way to experience a great city!
Budapest: I looked for and failed to find a Magyar kiosk, followed directions to a Vodafone booth in another terminal, and there consulted an amiable clerk with time to hold a tourist's hand, as no other customers vied for her attention.
She wasn't surprised by the wait for Turkcell service, said that prepaid SIMs usually fire up immediatamente, but can lie dormant for — get this — as long as forty-eight hours.
I showed my passport, signed more forms, received a wad of fine-printed paperwork for the circular file, and a Vodafone SIM card. The clerk showed me how to enter a new Access Point Name in a settings menu.
Voila! A Vodafone-engined data connection, that came online instantly and ran without hiccups.
Marrakech: My moment of truth. I'd had my Verizon SIM to fall back on in Istanbul and Budapest. I was in Africa now, understood the hurt that a $2.05 per megabyte charge would put on my wallet, expected to be smartphone-less if I couldn't succesfully swap SIMs.
I found an INWI booth, showed my passport, collected more circular file paperwork, and a SIM card. The clerk couldn't get a local phone number to ring, but I still bade her thanks and farewell after successfully loading web sites in a browser. I had data and a GPS signal without a wait, as in Budapest.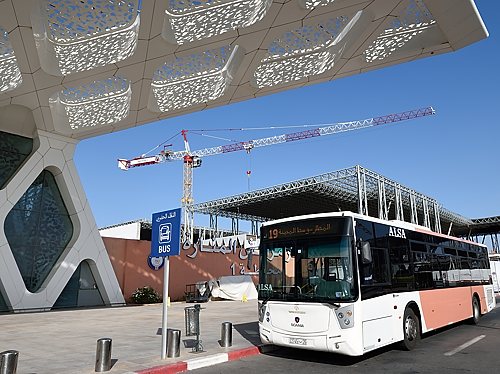 Said GPS signal encouraged me to ride the 19 bus into town, guided me via RMaps through the winding, twisting spaghetti strand streets of the ancient Medina — intended to confuse, when plotted a thousand years ago — as easily as I might have shuffled to a Thousand Oaks strip mall. That GPS signal on RMaps helped me rescue a UK tourist, helplessly wandering the Medina maze with nearly useless Google Maps print-out .pdfs on a tablet computer. (What good are such print-outs if you can't find street signs?) He was a bright, friendly twenty something, but had obviously never heard of a local SIM.
I contemplated a transitophile post after helping him, my inadequate knowledge notwithstanding.
DISADVANTAGES
Requires some technical chops, as likely was obvious while reading this post.
Adios, existing U.S.A. phone number. Your local SIM comes with a brand new phone number, wanted or not; you won't be able to take calls or check messages on your U.S. line without popping in your U.S. SIM card.
One more chore to deal with at the airport after arrival. The local SIMs often aren't plug and play, so you'll cool weary heels if other customers are ahead of you. No fun after a 10+ hour red eye.
One more step to research before your trip. You'll want to know in advance what cell provider kiosks to hunt for after clearing passport control.
That potential delay for connectivity. I depend on my smartphone, don't want to wait two days to use it. Googling

delay 'sim card activation'

produces few leads. I have my Turkcell experience to go on, and the words from that Budapest Vodafone clerk.
SIM cards are tiny, easily misplaced. You won't lose your U.S. SIM if you don't swap and leave it in the phone.
* * * * *
1 I haven't sold the Verizon shares mentioned in my May post, and own Vodafone shares, too.  Vodafone was the equity I purchased, incidentally; I received the VZ shares after Vodafone sold its Verizon stake in 2014.