The Bernina Express tourist train trek through the Alps is:
"one of the most scenic train rides in Europe, or for that matter, the world."  … train guru Mark Smith, The Man In Seat 61
"…an incredible excursion … very tough to beat"  … Everett Potter, Forbes
"Is this the most spectacular railway journey in Europe?"  … Roshina Jowaheer, Good Housekeeping
Talk about rave reviews!  I had gushed over Alps scenery during a Christmas rail ride to the Iceman museum in Bolzano, hungered to see more of the same.  A pessimistic weather forecast nixed a planned August trip to Galicia.  I spotted a single free window seat on a southbound Bernina in the same week, impulsively made travel plans.
What follow are mostly photos.  Click if you want to see 'em bigger; I maxed out my freebie Flickr account, choose to make do here.   Edit, 8/13/19:  Better still, view high-res images in their own directory .
Tourists contemplating this trip will get more practical information from the above-linked Seat 61 page and accompanying video, with one small qualification: Mr. Smith did the trip from south to north.   I took mine the other way around.
* * * * *
An IR 13 zips past my camera at the Zurich Airport rail platform.
The southbound Bernina Express runs from Chur, Switzerland to Tirano, Italy.  Not from Zurich, or anywhere close to Zurich; from Chur, which you've probably never heard of.
Gotta get there first.  Thankfully, you're traveling in Switzerland, a straphanger's Shangri-La.  Visit https://online.fahrplan.zvv.ch/bin/query.exe/en , contemplate the many available hourly choices while crafting a transit route of your own.  I could have opted for a shorter Zurich-to-Chur rail ride, but didn't want to suffer a senior moment while navigating a transfer on unfamiliar turf, so opted for the longer, no-transfer trip on the IR 13.
I didn't buy my IR 13 ticket in advance, instead wielded a credit card to buy my ride from the bank of fare machines above the Zurich airport rail platform.
(Warning: I think I had to use a credit card equipped with an RFID chip, identified with a WiFi'ish symbol.  Good thing I had one.  I didn't see a slot for a conventional card, which doesn't mean that the slot wasn't there.  Old geezer, easily confused; you know how these things are.  'Course, I also could have paid cash with Swiss francs.)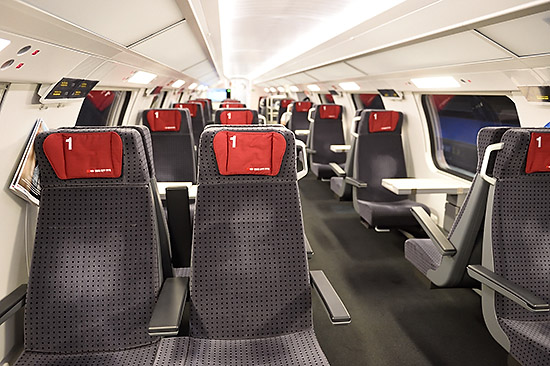 Interior of the first class cabin of the IR 13.  I probably didn't collect much of a dividend for the small first class price premium, with one exception: the cabin was mostly empty.  I could stretch out, move easily from side to side to ogle scenery.
Platform signage tells travelers where to board first class cars.  A local helped me; I would have struggled to figure it out on my own.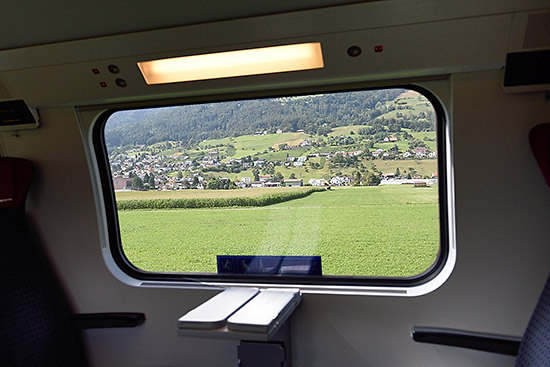 Closer to Zurich than to Chur, at this point in the ride.
The little shed dealie in the foreground has something to do with the adjacent garden plot.  Expect to pass many similar plots en route.  Sorry I can't tell you more; the operator ignored my many requests to stop the train so I could run across the field to ask questions.
How'd you like to live way up high on the side of the mountain like that, eh?  Rather an attractive country.
Postrasse in Chur, a ten minute stroll south of 'Bahnhof Chur' (the Chur train station).  My battle plan was to overnight in Chur, awaken bright-eyed and bushy-tailed to enjoy my 8:32 a.m. departure the next day on the Bernina Express.
A bridge in Chur.  I can't find it now in StreetView, but still would confidently wager many francs that it crosses the Plessur, a Rhine tributary.   Process of elimination; the only other Chur-proximate river is the Rhine itself, which is just a wee bit bigger.
Eagle-eyed photographers already may have divined that I didn't do this trip in Sunny 16 weather.  A humongous thunderstorm sent me running for cover before or after taking this shot.  I holed up at the Restaurant Calanda, and there immensely enjoyed watching the rain hammer down from my dry, awning-protected patio table, despite the vile fumes excreted by many nearby cigarette smokers.
Bahnhof Chur, snapped before joining the other eager sight seers awaiting arrival of our southbound Bernina.
So which platform do you go to?  Almost always platform 10, but you can check the big LCD screens in the under-the-tracks tunnel to be sure.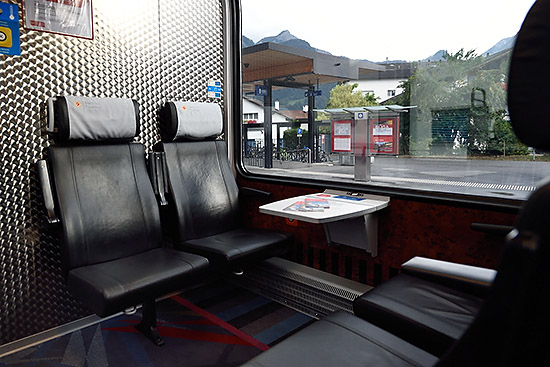 I think that these were the only empty seats in my car.  A foursome likely overslept or missed their connection.  Sorry, folks.  I'd feel bad, too.  Other riders moved eagerly in and out of these seats for picture snappin' as the train moved south.
The ride gets underway!  Note reflections.  (Hard not to notice them.)  I took all shots from my seat, only learned later from the Seat 61 video that I might also have bagged reflection-free photos from the sliding window in the baggage area.   It might have been for the best that I didn't know.  Plenty of rain during the trip.
This seat was occupied, but my table mate spent a lot of time elsewhere during the ride.   Chatting with his wife, or maybe nabbing better photos than these through that sliding baggage window.    He can send me a link to humiliate me.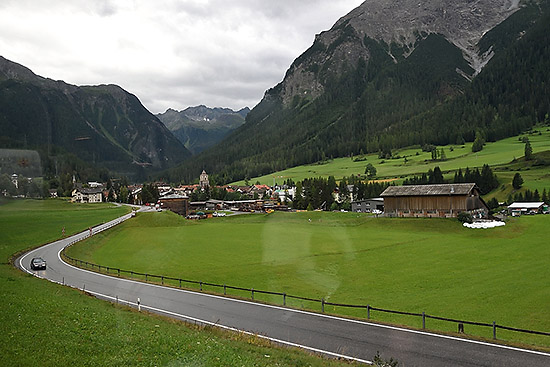 I like the shot enough to include it in this post, can tell you nothing more.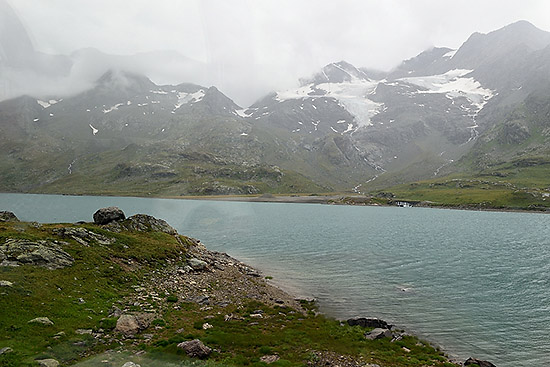 Recorded announcements inform riders of route landmarks en route.  The recording had something to say about what you see here, but I didn't put down my camera to take notes.  We were near the high point.  I remember that much.
These snowy peaks inspired much excitement and smartphone photography among fellow riders.  I could have booked my Bernina Express ride in winter, wonder now if I should have.
I was partial to shots that showed the prow of the train moving forward, although all such shots show glare on the left side of the frame.  I'm too coarse a guy to care.
This also was snapped near the high point of the route.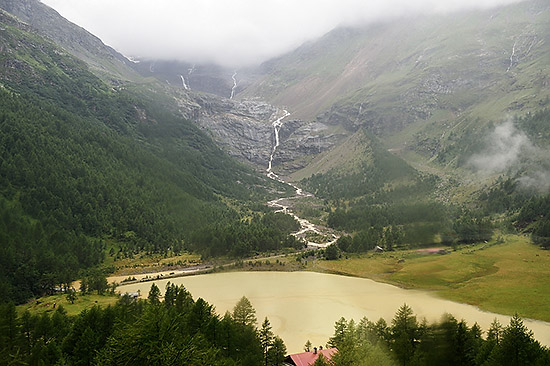 The train stopped for fifteen minutes near the tippy-top to allow riders to get out and bag selfies.  I didn't want to grapple with an umbrella and my dSLR at the same time, lazily chose to remain in the cabin.
But, next best thing: I'm pretty sure that the scene shown is what everyone was taking pix of during the rest stop.
A "farm house," I want to say, but I don't know that it is.   Click to view full size and you'll see what could be a solar panel affixed to the roof.  Or perhaps a gizmo for satellite internet.  I'm not modern enough to know.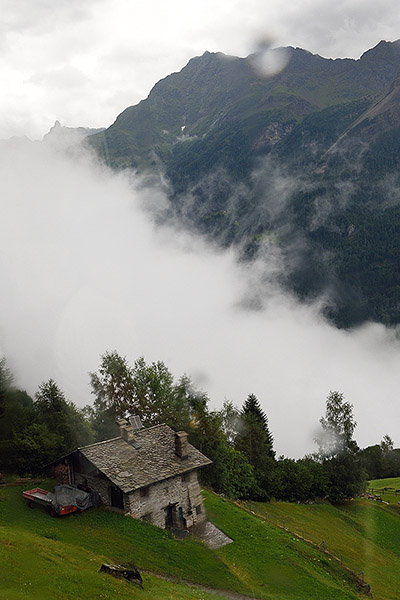 Another "farm house," with a similar rooftop panel.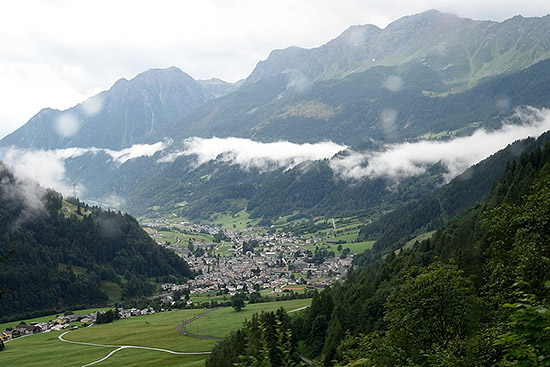 A town en route.  A seriously pretty town, at least from afar.  How'd you like to be a kid here?
Same burg, I think.  Not positive.  I wouldn't bet.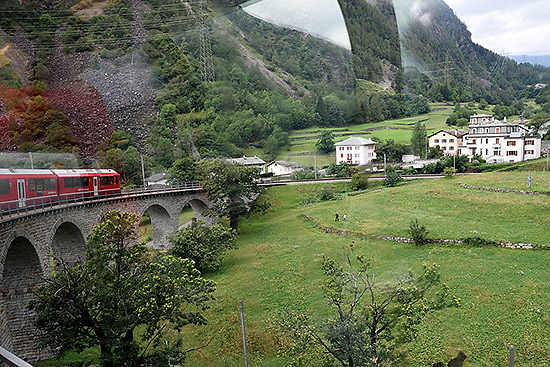 I managed to reach retirement age without knowledge of the 'Brusio Spiral,' but now write confidently that it qualifies as a landmark in its own right, even rates a separate Wikipedia entry.  Skeptical?  Click here to see me vindicated.
"Built to limit the railway's gradient at that location within its specified maximum of 7%,"  says Wikipedia.  Sounds reasonable to me.
We were nearing the end of the ride at this point.  I could have snapped pix as the Bernina cruised through Tirona, didn't bother.  You often get what you pay for on this blog.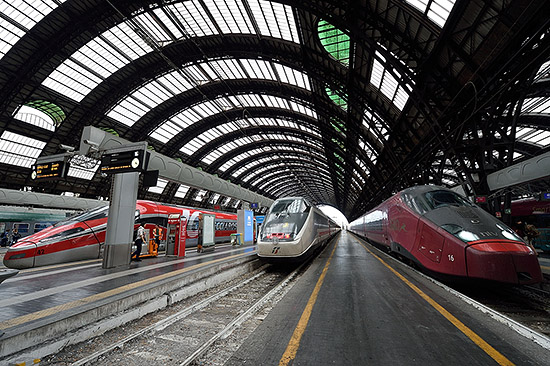 Seat 61 will offer you practical information on the Tirano-to-Milan leg of the trip.  I shamelessly cut directly from my Bernina Express ride to Milano Centrale, as I found nothing I especially craved to photograph between the two.  Sorry.
The Bernina Express station is directly beside the Trenitalia station in Tirano.  Step off, wend your considerate and solicitous way past other disembarking riders, look for the Trenitalia platforms.  Easy.  Maybe ten minutes.  I had expected to twiddle thumbs in Tirano for two hours while waiting for the 15:08 regional to Milan, but was able to catch the earlier 13:08, although the Bernina had pulled in (on schedule) only nineteen minutes earlier.  Not bad.
I bought my Trenitalia tickets in advance at https://www.trenord.it/en/home.aspx , which also served up Malpensa Express tix from Milano Centrale to the Malpensa airport.  Click around, check out time tables.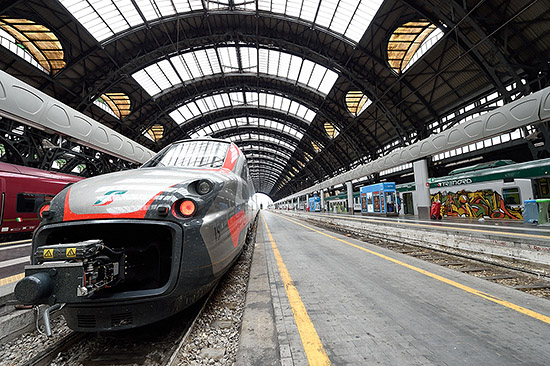 I brought along my ultra wide angle 14-24, which lets me take weird shots like this.
You're impressed!  You never knew that Milan includes such a striking central train station.  You want to know more.  And you can, but not here.  I'm tired of thinking of stuff to write under these photos, want to wrap up this entry.  Wikipedia offers history; Seat 61, practical travel information.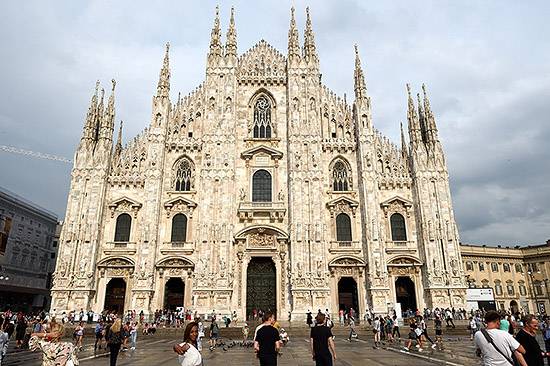 I'll guesstimate that tourists are now snapping a half-dozen photos nearly identical to the image above in the time it takes you to read this paragraph, at least if the paragraph has earned your attention during Milan's daylight hours.   The Duomo pulls TripAdvisor's #1 slot on Milan 'things to do.'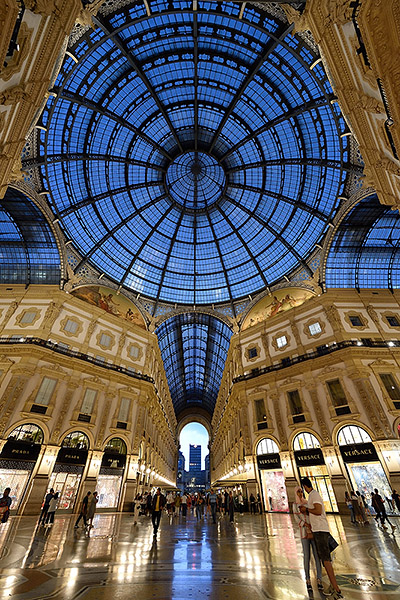 My favorite shot in this post, but it doesn't have much to do with the train ride.  I wandered around Milan for a few hours before shacking up in my hotel, caught the Malpensa Express to the airport the next day.
How about other routes between Zurich and Milan?   I will defer once again to the expert Man in Seat 61, who describes a three hour, forty minute, as-cheap-as-39€ EuroCity rail ride THROUGH the Alps, via the three year old Gotthard Base Tunnel.   Longest and deepest travel tunnel on the planet!
We Americans will quickly think of making the 293 kilometer / 182 mile trip by air.   You could; Swiss Air sells non-stops for as little as 160€.    Fifty-five minutes in the air, but I doubt you'll save time over the EuroCity after factoring in transit treks to and from both airports, unless you're daring enough to arrive significantly less than an hour before departure.
* * * * *
8/13/19: Wanna look at high-res copies of the pics above?  You can!  Visit: