I visited the capital city Vilnius and Kaunas, about ninety kilometers northwest. While there, I thought:
LITHUANIA IS STRONGLY PRO-UKRAINE
Expect to see the Ukraine bicolour on stickers, buttons, donation boxes, even on a mini-flag worn like a cape around a resident's shoulders. Vilnius ❤ Ukraina declare the head signs of Vilnius buses. Putin, the Hague is waiting for you promise bold black letters on a New City Center skyscraper.
An amiable tour guide permits participants to frame a single exception to the "no photographs" rule inside the shuttered Lukiškės Prison: cell phone shots of a Vladimir Putin cutout, glowering behind bars.
LITHUANIA NAPPED THROUGH THE ENGLISH CLASS
Ranked number 19 for English fluency planet-wide! Lithuania holds down this slot on Education First's English Proficiency index. I saw this score before my trip, half expected to chat up locals on misplaced modifiers and pronoun antecedents at Caffeine outlets.
A slightly older and wiser Tim now notes in the index's Appendix A that participants are self-selected. I must not have crossed paths with the test takers while in country. Expect to communicate in English at a hotel that tourists are likely to hunt up online. Elsewhere? Good luck. You'd be better off with Russian, spoken by about eight percent of the population.
(Incidentally, this relatively widespread fluency in Russian must mean that many Lithuanians can comfortably join the audience for Russia's media, and consume a Russian perspective on Ukraine that may be downplayed or suppressed in the western press. I envy that fluency, but also note that whatever Olga Skabeyeva is trying to sell her viewers on Rossiya 1 obviously hasn't much impressed Lithuania.)
PEAK PATINETE
Patinete is what Spaniards call e-scooters. They're everywhere in Vilnius: in streets, bike lanes, sidewalks, parked in rows by the cathedral. I see them in Madrid, but not nearly as often as I saw them in Vilnius.
I am a patinete agnostic, at least for now. A fellow Andén 1 member told me that they make a 24/7 car-free life much more reasonable, that a multi-block scoot on a patinete can comfortably fill in the gaps between transit lines. Madrid's mayor wants to regulate the contraptions, rather than forbid them outright.
I see his point, but watched Vilnius pedestrians recoil while avoiding riders on busy sidewalks, and also note an e-scooter's potential for feeding male gadget lust. (Might a sixteen year old chaval prefer a purely practical patinete, or perhaps a bigger, speedier scooter, with bigger wheels? Might a manufacturer anticipate the likely answer to that question, and design models accordingly?)
Visit Vilnius, be an eyewitness, form an opinion of your own.
AN EXCELLENT SECOND-TIER TOURIST DESTINATION
I yenned for a Europe trip in June, but didn't want to contend with sold-out hotels and peak-season tourist crowds. Those conflicting desires sent me to Lithuania. Vilnius and Kaunas aren't Madrid or Paris, but they're safe, clean and attractive, offer plenty to look at and enjoy. I think many who roam in the peak travel months would be happier to explore destinations in the second tier. (Like Extremadura, say I, and lateral to a 2020 post.)
---
Vilnius/Kaunas tourist transit tips:
(♦)  A single euro is all you need to ride the 3G express bus from the airport. If you intend to ride other Vilnius buses, you'll want to load the appropriate pass on a public transit card, which looks like this and which can be purchased at a local Narvesen outlet. (There's a Narvesen at the airport.) Available passes are described here.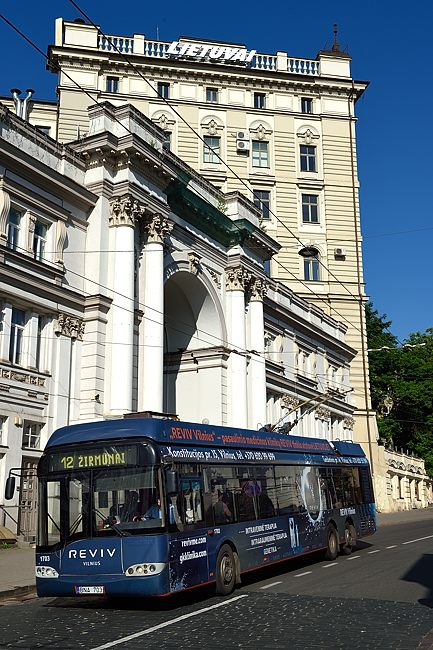 Can you load such a pass on your phone? Yep, but I can't help, as I remain loathe to do any transaction involving money with a too-easily-lost-or-stolen smartphone.
(♦) Buying the equivalent transit card in Kaunas may be tougher, as Kaunas residents may know even less English than locals in Vilnius. I couldn't buy the card at the Kaunas train station, feel fortunate to have stumbled across a fluent English speaker on the north side of Vytauto pr. immediately northwest of the train station, who directed me to a Kauno spauda kiosk there. A kiosk staffer sold me the card.
If you can't buy the card, but still want to ride the bus in Kaunas? They accept cash.
(♦)  As for the train linking Vilnius to Kaunas: visit the Lithuanian Railways site and you'll see that these trains run frequently and take about an hour and a quarter each way. I bought a round-trip ticket from an English fluent station employee about a half-hour before departure. Easy!