(♦) Kyiv is 1,500 years old, give or take a century, and boasts an enviably deep line-up of historical draws. Tally 'em up: two UNESCO world heritage sites, the Kyiv Pechersk Lavra caves monastery and St. Sophia's Cathedral, both tracing roots to the eleventh century. St. Michael's Golden-Domed Monastery. St. Volodymyr's Cathedral, St. Andrew's Church, St. Cyril's Church and Monastery. See? I've already stuffed your tourist itinerary for at least a couple of days, and I haven't even taken a crack at the secular attractions.
Kyiv has these, too. The Rodina Mat motherland statue, nine meters taller than the Statue of Liberty. The World War II history museum, a botanic garden, Andriyivskyy Descent (a pedestrian street), Independence Square. I could go on. Dial in Volodymyrksa Hill, the Dniper river, and endless acres of lush summer greenery, and join me in spelling t-o-u-r-i-s-t p-o-t-e-n-t-i-a-l. Oodles of it.
(♦) Kyiv has a PR problem. A California acquaintance warned me with a straight face that drunken soldiers carouse Kyiv streets in the wee hours, blasting away at the skyline with Kalashnikovs. He was likely inspired to this flight of fancy by misunderstood news of the Russian separatist conflict on the frontier, at least seven hundred kilometers southeast.
Others associate Kyiv with bargain restaurants and mail order brides; the country's maidens are supposedly so desperate to ditch the Ukraine that they will shack up with any marginal smelling sexagenarian pot belly brandishing a decent passport. Parliament slug fests don't burnish the national image, either.
After a weekend in Kyiv, I now think:
(♦) Kyiv is visit-able, a diamond in the rough. For tourists, Kyiv qualifies as a find. I wish I'd visited much earlier. I sure wish I'd visited Kyiv before Bucharest.
(♦) Kyiv deserves some of its bad rep. Not much or most, but some. Thou may roam Kyiv safely, but shall encounter rough edges while roaming, shall be exposed to the seedy, the tacky, the run down.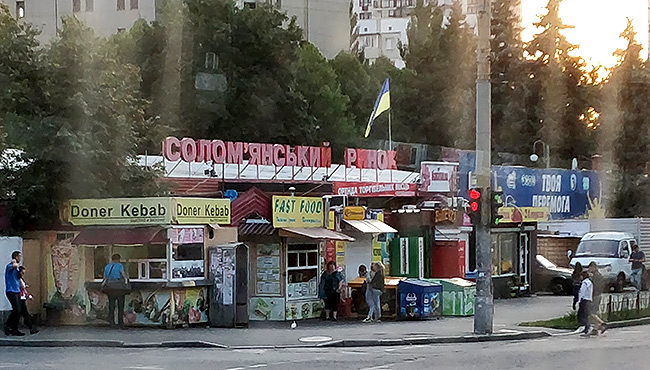 Thou also shall not scamper about on your lonesome as easily as in, say, Copenhagen or Stockholm. I do not recommend Kyiv to a first time solo traveler to Europe. With a tour group, fine, but not if journeying alone. Go some place easy first.
* * * * *
The attractions speak for themselves. On to rough edges:
(♦) Few English speakers. The smartphone map may tell you where the metro is and what overseas street you're standing on, but it's still reassuring to know that you can chat up a stranger in your native tongue in a bind.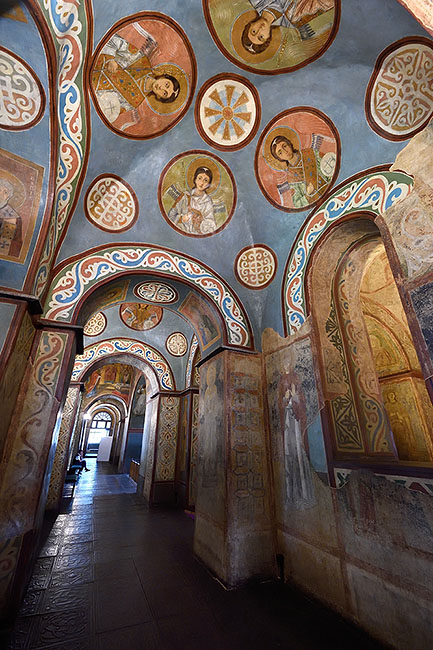 An English speaker can assume as much in Copenhagen, Stockholm, Berlin. In Kyiv? Get stuck and you may be in for a bigger adventure than you bargained for.
(♦) Currency swap on arrival. I couldn't convince the ATMs at Kyiv's Boryspil International airport to accept my bank card, had to queue at a currency exchange booth to swap euros for hryvnia. Slow. Old school. Lousy exchange rate.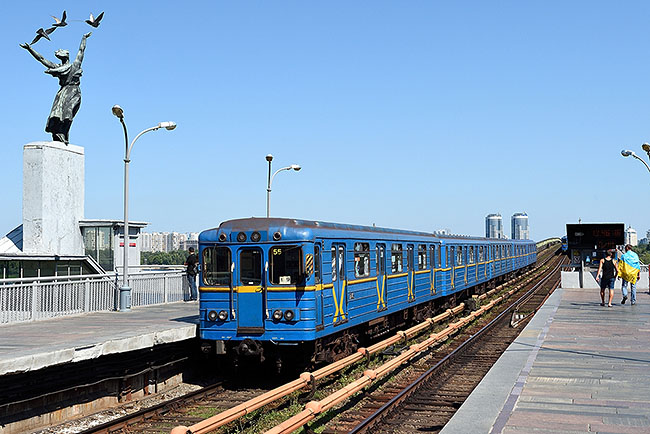 (♦) I prefer to point my camera at un-gruesome things, and so accompany this post with shots of two appealing Kyiv metro stations: the outdoor Dnipro platform, above, complete with Communist-era Young Pioneers statue, and the beautified-in-2018-with-murals stop at Osokorky, among the extra shots that couldn't be shoehorned comfortably into the post body.
Unfortunately, these shots are wildly unrepresentative of what you'll encounter elsewhere in the system. Wildly. The subway cars, escalators and fare gates are straight out of the Soviet system, in the same style seen in Moscow and St. Petersburg, but the cars are grungier and, sometimes, more dimly lit. Treat yourself to a gander at this Moscow metro photo; turn down the lights and subtract ten to fifteen percent on the beauty meter.
(♦) As in Moscow, Kievans do not seem to respect western norms when forming queues. Leave a half meter in front of you and expect someone to step into it. No hard feelings.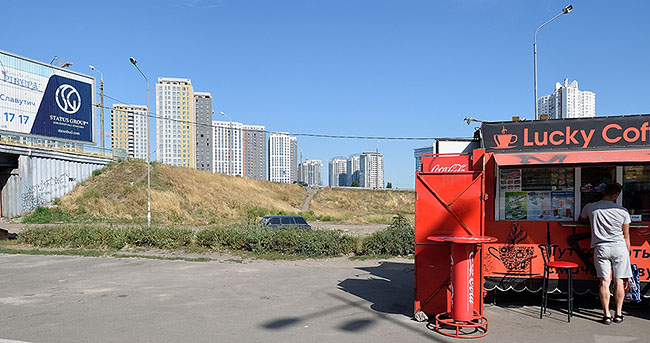 (♦) Tourists of delicate sensibilities can not insulate themselves in beauty, unless traveling in a chartered tour bus with window drapes. They will see what is raw and seedy in Kyiv, whether they want to or not.
I'll elaborate:
You're going to San Francisco! First time ever! Maybe wisenheimer Tim tells you that locals don't go to Alcatraz or Fisherman's Wharf, that not everyone in San Francisco is rich, that you ought to hang on a strap on the Mission Street 14 bus for an authentic San Francisco experience, but you don't want to hear that. Frankly. It's your vacation. Free time. Life is tough enough already. You know how to ride a packed, ugly, stinky bus in your own part of the world, thanks very much. You want to ride the cable cars and gush over the views from Pier 39 and pretend the whole city is similar.
I suspect that many tourists hew to similar tastes, whether admitted frankly or not. They can frolic in an insulated tourist environment in central Prague, or Kraków, or in much of Florence. They won't in Kyiv. The Ukraine is a poor country, only a few notches ahead of Guatemala on Wikipedia's lists of GDP per capita. Rough edges show. I felt entirely safe during my daytime wanderings, but passed many sights that reminded me more of the Mission 14 than of Pier 39.
* * * * *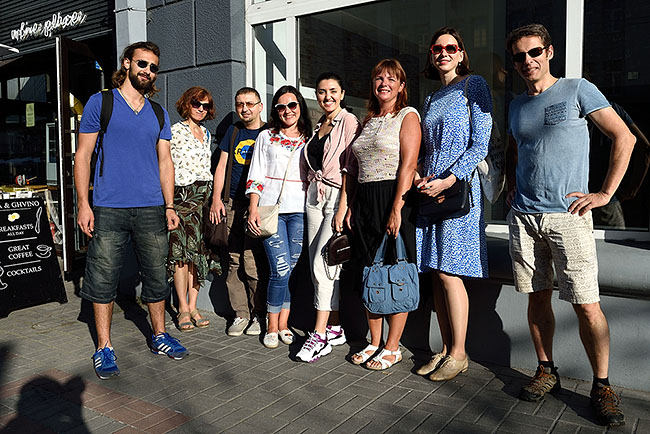 Shown above: friendly participants in the August 24 Kyiv Meetup in English. We chatted for several hours in the Turka & Ghvino cafe, strolled afterward to take in Independence Day festivities at the Maidan central square. A major trip highlight, for a product of the Cold War like me. I saw The Russians are Coming! when it debuted, remember the worldwide reaction to The Day After in 1983. I never imagined then that I could visit a behind-the-Iron-Curtain city, even less that I might chat sociably with folk who live there.
I could have asked better questions if I'd boned up on Ukrainian history before the event, but still learned a thing or three, as follows:
(♦) "What language do you usually speak," asked I, "when a visitor like me isn't around?"
Answer: Russian. "It's a little embarrassing," added one.
Russian is most widely used in Ukraine's urban centers, says Wikipedia, and in the east. I gather that inappropriate use of Russian in some western regions is a major faux pas.
(♦) Some remember life in the USSR. The Chernobyl disaster was hush-hush, a one-paragraph blip on a newspaper's inside pages. News spread by word of mouth, gossip, hearsay. Another remembered the failed 1991 coup against Gorbachev. "No matter what channel you turned to, all they played was Swan Lake. Over and over. All day."
(♦) Our group included a Russian from the Urals, who gets on comfortably in the Ukraine and was welcomed as warmly in the group as any other participant. "I sometimes get funny looks when people see my passport," he said.
(♦) Kyiv supports a tiny oligarchy, said one, and a vast underclass. Low wages attract overseas investors, who compete with each other, gradually push wages up. The IT sector is booming. "Unfortunately," added another, "some administrators still expect a bribe."
* * * * *
Practical tourist information:
(♦) Inexpensive!
(♦) The Ukraine isn't in the European Union. I could have used my Spain Vodafone cell phone plan there, but would have paid dearly for doing so.
I resolved to buy a prepaid sim, found three sim card vendors stationed side-by-side at Kyiv Boryspil airport, chose — you guessed it — the familiar name (in which I also still own stock shares): Vodafone. It worked. I think I paid less than 10 euros.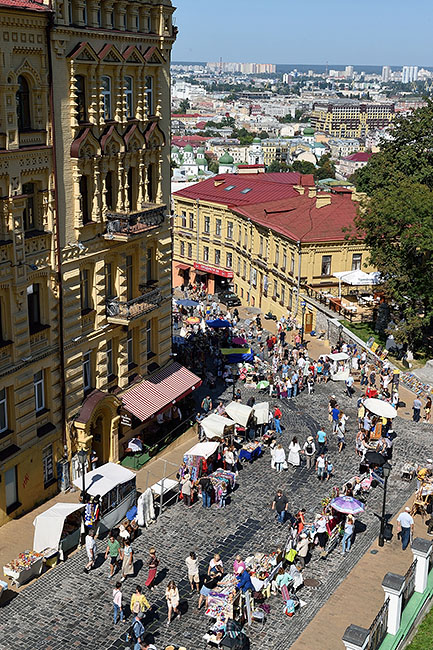 (♦) I rode the Sky Bus from KBP to the central city rail station, as described in Wikivoyage. Not everyone got a seat. Sky Bus dropped us off on Polzunova Street, on the station's southwest side. I found the Vokzaina metro entrance by walking through the station, from southwest to northeast.
(♦) The Vokzaina metro ticket window couldn't sell me a transit IC smart card. Shucks. I bought a handful of plastic tokens instead.
(♦) I gather that the 'Kyiv' spelling leans more toward the Ukraine, and 'Kiev' toward Russia. I chose Kyiv.
* * * * *
More interested in the photos than in wading through my yak? Feel free to click the directory listing below:
https://transitophile.com/chango/files/kyiv/
to eyeball 'em full size. 'All Rights Reserved' shots are now inconveniently packaged in .pdfs. Sorry. If only everyone were as ethical as you, I wouldn't have to worry about these things.