Last summer I named two Costa Brava gardens as the most spectacular yet seen in my travels, largely thanks to their spectacular bluff-top views of the glittery blue Mediterranean. I returned last week from a short trip to the French Riviera, feel honor-bound to add a third:
Le Jardin Exotique got its start after World War II, when Èze mayor André Gianton craved greenery atop the castle ruins that then crowned his village's promontory. He collaborated with Jean Gastaud, creator of the Exotic Garden in nearby Monaco. Dozens of inadequately appreciated working stiffs did the project's heavy lifting, literally, while hand-toting plants and soil sacks to the summit.
What else can I tell you that a few clicks in a search engine won't turn up on another web site?
(♦) Èze Village is transit accessible from Nice, the Riviera's biggest city. Not easily or conveniently, but, bottom-line: can be done:
Walk a block and a half to the bus transit hub ('gare routière') and wait for an 82 bus. Be prompt! The 82 doesn't run often.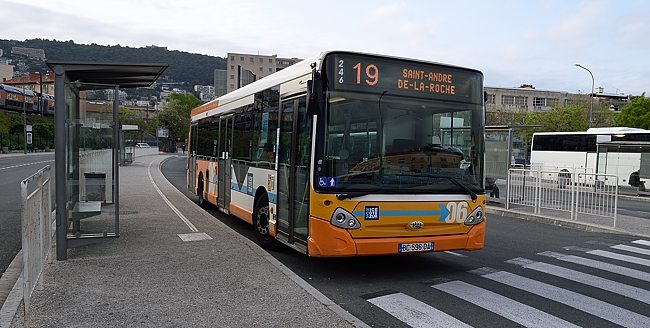 (You also might board the Nice-to-Monaco 112, which leaves from the same bus hub and also stops in Èze Village. I'm not a Monaco kind of guy, didn't investigate the 112.)
Get off in Èze Village, hike up the Rue du Jardin Exotique, then turn onto the stairs to the immediate right of these black-and-gold gates of the Château de la Chèvre d'Or.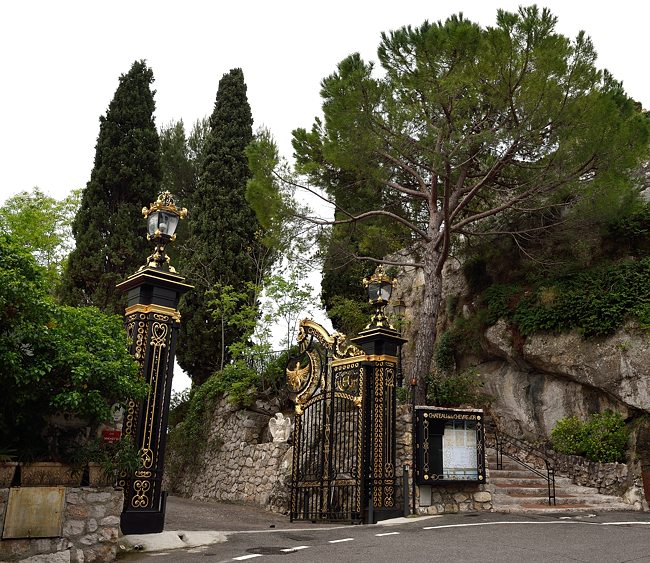 (Alternatively, the budget-minded traveler could book a room at the five star la Chèvre and save the €1.50 bus fare. A one night shack-up this May goes for about €567, or €627 with breakfast. I assume they include toast.)
(♦) Le Jardin is a truly car-free destination, of necessity. That promontory is s-t-e-e-p, as the vertiginous views in the lead photo show. The Rue du Jardin Exotique continues for about a hundred meters after the Chèvre d'Or gates, then dead ends. Drivers may go no farther. While climbing the many scenic steps to the garden entrance, I was passed by delivery staff lugging cases of drinks and other consumables to nearby restaurants.
Further, my entrance to the garden on April 27 was delayed by a helicopter delivery to the garden grounds. The military green rotorcraft made more than a dozen noisy trips, toting meat locker-sized sacks of soil and other essentials to the peak, affixed by cable to the helicopter's underside. A snapped cable might have sent one of those huge sacks plummeting onto your elderly blogger's noggin, despoiling photo angle, dSLR and photographer in a single mishap. Jardin staff thought it best to hold visitors at the gate until the helicopter departed.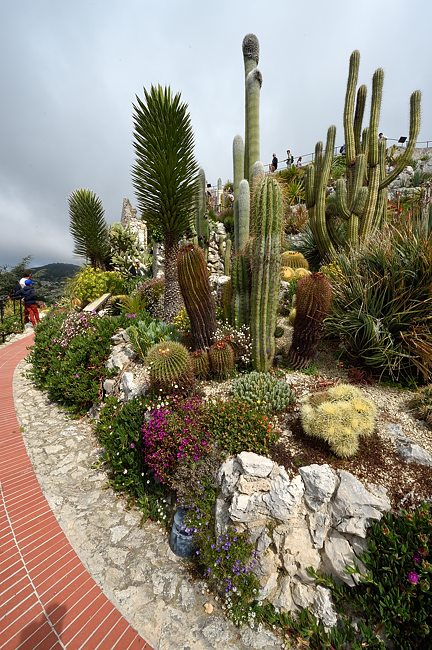 (♦) You won't be alone at Le Jardin. I climbed up and down steps among dozens of fellow tourists, including many English speakers.
(♦) I snacked contentedly at the Saines Saveurs while waiting for my 82 bus back to Nice. Just a snack, but perhaps worth a mention, given my generally abysmal luck with eateries while on the road. Look for Saines Saveurs about a hundred meters east of the bus stop.
---
For full-sized versions of the shots above, and a few others, please visit the photo directory.