You're coming to Spain! You want to stroll among the beautiful people on Calle Arenal, ponder Madrazo at the Prado, chug-a-lug calimochos in Latina, black out in a Malasaña patrol car. But, before or after your well-deserved arrest, you'd like to sample the Spanish rail system, too, and book a day trip. Maybe you'll find an unlocked restroom window in that three star Michelin restaurant, and can dine and ditch as you do back in the States.
You're a high value tourist. This post is for you. A guide it's not. Seat61 wrote a guide. This is a post. Casual. Incomplete. A sharing of thoughts.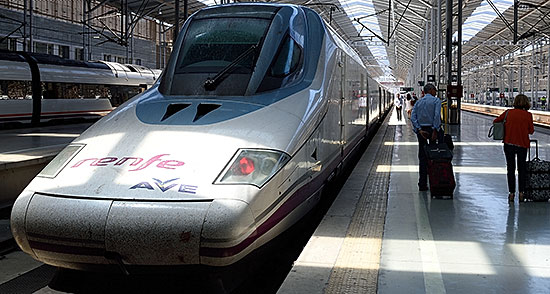 Wish-est thou to travel near Madrid?
The local Cercanías commuter rail system can get you to El Escorial (the monastery), Alcalá de Henares (Cervantes' birthplace), Aranjuez (summer palace), and other visit-worthy destinations on the city outskirts. If that's all the local travel you seek, abandon this URL now and read my Cercanías post instead.
Cercanías is cheap and runs allatime. No advance ticket needed. Show up and go.
Or wishest-thou to travel (relatively) far?
Eager to ride the rails farther afield than Cercanías? You're in the right place, or at least will be after digesting the Seat61 manifesto, linked twice for a reason.
Spain's rail network is …
… far superior to USA's East Coast Amtrak and utterly beyond the ken of anything now operational out west. I have lived in Spain almost a year, still struggle to bend aging brain cells around the hop-skip-and-a-jump mobility available between cities. My sense of time and space feel skewed; I can't believe I can travel so quickly to distant Sevilla, Córdoba and Málaga without a plane ticket, and so picture these cities as closer to me than they actually are.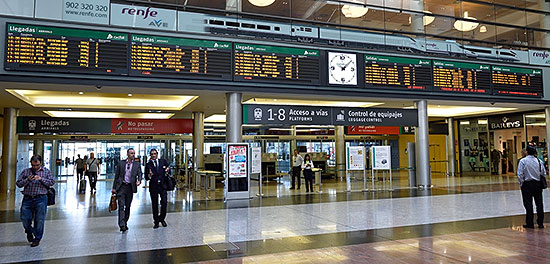 Consider: Barcelona is about as far from my Madrid home as Los Angeles is from San Francisco. In the states, the S.F.-to-L.A. shlep meant a six hour drive or a trip to the airport. Only a leisure traveler would book the only currently-available rail alternative: a once-a-day, eleven hour ride on the Coast Starlight. In Spain, in contrast: hourly to half-hourly departures for a 2.5 – 3 hour, central-Madrid-to-central-Barcelona ride on a high speed Ave train. A different world.
I haven't read up on Spain's economy, can't judge if el contribuyente's tax euros were invested shrewdly or flushed recklessly on the nation's mighty rail infrastructure. I only marvel wide-eyed at what I can do aboard a system approved and built before I arrived. A visiting Californian should prepare for an unfamiliar reference frame: if you wish, you can maintain the same Madrid hotel room/tourist travel base while booking day trips to distant cities.
(To some distant cities: not to Santiago de Compostela, say, or Gijon, five hours away by rail. But to many. Visit renfe.com, plug in some destinations; experiment.)
Buying rail tickets
I bought mine direct from renfe.com with U.S.-issued credit cards. Seat61 warns that many others haven't been so fortunate, and offers alternatives.
Renfe wants credit cards to be 3-D Secure: Verified by Visa, SecureCode for MasterCard, or SafeKey for American Express. Mine are. Call your card issuer, ask questions. I suspect that the extra 3-D Secure layer explains the high bounce rate for Seat61 users.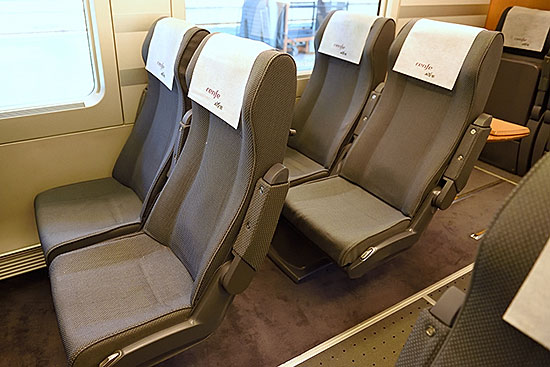 Renfe offers a related, all-Spanish FAQ page. Scroll down to: Con que tarjetas de crédito puedo comprar billetes en Internet?
You can buy some tix from Renfe by phone, too: +34 902 320 320. An English-speaking operator should be available, although you'll hear Spanish, first.
I registered a user account at renfe.com. Maybe that helped.
If all else fails: consider buying tix in person at a Renfe punto de venta.
If your online ticket sale goes through, you'll get a link to a downloadable .pdf ticket, and also should receive the same .pdf by e-mail. Print it and bring it on trip day. Coche = the car you're riding in. Plaza = your seat.
How far to book in advance?
"At least a couple of days" is my knee-jerk answer, but I'll again suggest plugging in experimental destinations at renfe.com and drawing your own conclusions. (And researching major holidays that may swamp the trains. You're unlikely to be the only tourist who wants to visit Sevilla during the Feria de Abril.)
'Tren completo' means you didn't book early enough: the train is full.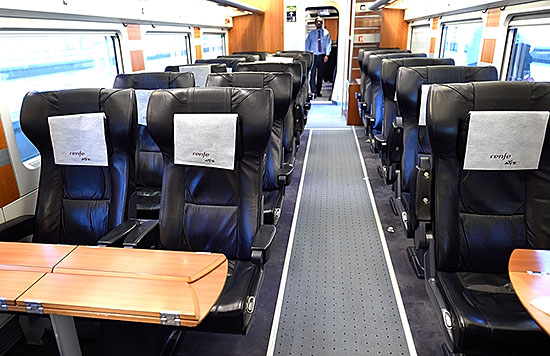 Tourist or First Class (Preferente)?
This post includes pix of seats in both. Not much of a difference; both are plenty nice. I believe a crew member passed out free copies of El País, El Mundo and other Spanish-language newspapers on a preferente ride, and not when riding tourist.
Some long-haul preferente tix include a meal, and the easily-missed option to specify vegetarian or other special order eats.
Where do I get the train?
Expect to depart Madrid from either the Puerta de Atocha station in the city center or the Chamartin station to the north (abbreviated on my .pdf tickets as 'Madrid-P.A.' and 'Madrid-CH,' respectively). The subway serves both, although Madrid strives to bewilder tourists by hanging the 'Atocha' moniker on two separate stations on the metro 1 line. You want "Atocha Renfe," not "Atocha."
Metro-to-Renfe transfer signage is reasonably clear in both stations. If unfluent and confused, adopt an endearingly helpless expression while showing your .pdf ticket print-out to a station employee. Said employee's sign language should put you back on the right track.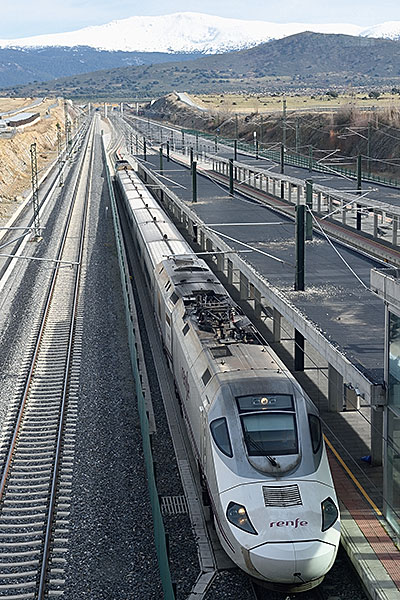 You do not want local Cercanías commuter rail for this trip, represented by a big white-on-red 'C,' although Renfe operates Cercanías, too.
I have seen Spaniards board trains with minutes to spare. You're new in town, don't know the metro-to-rail-platform route by heart, should arrive much earlier. Expect on-the-dot departures and travel times.
300+ km/h?!?!
An LCD screen in my Madrid-to-Sevilla Ave frequently reported 270 km/h speeds (168 mph), although the train more often loafed along at 230 (143 mph). Even at 270, I could have waddled comfortably to the club car for an adipose-enhancing chocolate muffin. Fast, but not uncomfortably so.
Where do I go on this Madrid day trip?
Caveat emptor: I can compare only the Spanish cities I've visited to date: Toledo, Segovia, Ávila, Sevilla, Málaga, Córdoba and Barcelona.
Barcelona is the country's second biggest city, and deserves more than a day trip.
Toledo is easiest. Hourly departures, 13€ one way, thirty minutes on the train, and the physically fit can walk comfortably from the train station to the historic Toledo of centuries past. That said …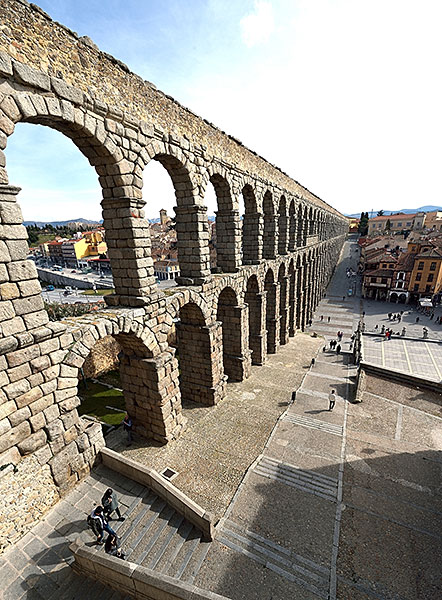 … I might recommend that some Madrid tourists book Segovia first, although they'll have to take the local 11 bus or taxi into town from the way-out-in-the-middle-of-nowhere Segovia-Guiomar station. Similar frequency and ride time, some 13€ tix available, and Segovia offers more to stare at: the spectacular aqueduct, Alcázar, and Cathedral.
The other cities are well worth the travel time, but I'd give Córdoba and Sevilla a wide berth in the summer, unless visiting from Singapore or the UAE. Hot.