Stockholm's new towns — no longer very new, and referred to as gulags only playfully — are the clusters of housing and commercial development herded about the outlying stations of the T-bana metro system.  Transit guru Robert Cervero beamed about them in Transit Metropolis, and here I was jetting off to Europe anyway.  I figured I'd have a look.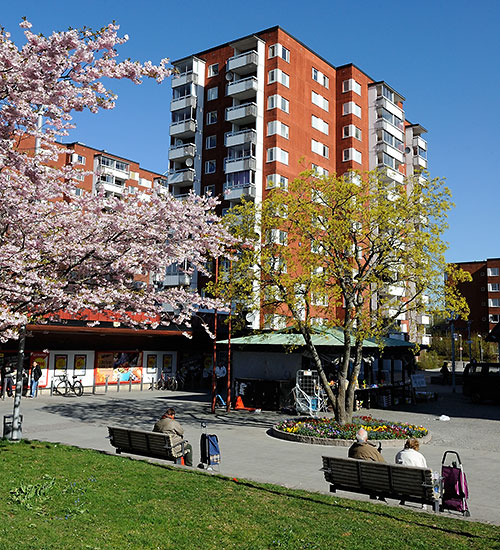 A quick new town timeline:
1902:  With inspiration from the once widely read utopian novel Looking Backward, and perhaps while fingering the tufts of that knockout walrus 'stache, the grumpus shown below wrote Garden Cities of To-morrow and spawned the 'garden city' movement.  It would not do, opined this sage, for cities to metastasize chaotically across the countryside; you wanted to plan how they'd appear, and corral them within greenbelts.
(Ebenezer Howard was the sage's name.  In fact, Sir Ebenezer Howard, to be formal about it; that should tell you something.  I don't know why he looks so cranky here.  Perhaps he'd just gazed through a soothsayer's crystal ball at the future San Fernando Valley.)
1904: The Stockholm city council started buying up land.  Maybe they were forward looking.  Maybe they just had a thing for snow and dirt.  Either way: by 1980 Stockholm owned seventy percent of the one hundred eighty-eight square kilometers within city boundaries, and six hundred square kilometers beyond.
(Six hundred square kilometers = about five San Franciscos, give or take a couple of Bi-Rites.  A lot of land.)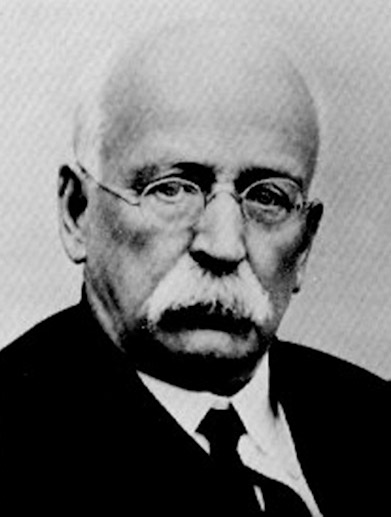 1945: Architect Sven Markelius rolled up his Nordic sleeves and commenced work on Stockholm's general plan, which ordained that much future housing and commercial development would be artfully funneled around stations in the region's growing rail network.  Mr. Markelius was aware of surveys indicating Swedish preference for lower density development, but pushed ahead with his general plan anyway.  If the friends of Wendell Cox seek an historical figure to burn in effigy, well, Sven might be their man.
1954:  The first of the new towns appeared at the Vällingby station.
2014: Sweden rejoiced silently as I stepped off a jet at Arlanda, gracing lucky Stockholm with a first-ever visit.  Dagbladet somehow missed my press conference, but I felt the city's quiet gratitude while hustling my rollaboard to the nearest airport urinal.
I devoted my first Stockholm day to more conventional touristing, but commenced my informal look-a-see of the new towns the day after.  I visited Skarpnäck first, at the end of the T17 T-bana line, then Fruängen on the T14, Hägerstensåsen, and, after more touristy wandering about, Rinkeby and Tensta.  The next day I continued to the T19's Vällingby, and Akalla and Kista on the T11.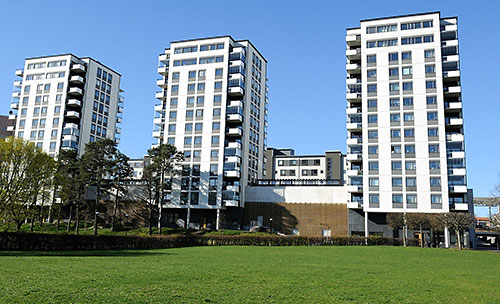 Impressions:
(♦)  Tensta, Rinkeby and the unseen-by-me Husby need to be brooded about separately, for reasons to be explained shortly. Everything else looked as good or better than expected. I might have irritated one local by asking twice if nearby high rises were tenanted by the well-to-do: the first time because I wanted to know, the second time because I couldn't believe his answer that they were 'only' middle class.
(♦)  All the high rises shown are within a businesslike five minute walk of a T-bana station.  (The station entrance is across a courtyard and to the right of the white buildings immediately above.)  The metro runs every ten to fifteen minutes most hours, and the rail ride to downtown Stockholm takes twenty to thirty minutes, at least from the new towns I visited.  Forty-three percent of Stockholmers ride transit to work.
(♦)  Retail and community offerings vary from station to station.  Kista got a whole shopping center, whether it wanted one or not.  I spotted a church, community center and Direkten convenience store at Skarpnäck.  Rinkeby had a courtyard produce market, and the market was busy while I was there.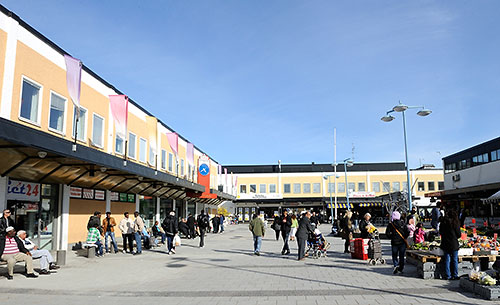 (♦)  I didn't go to Europe to research a PhD thesis and spoke to only a few folk, but those few spoke well of their transit-centric Stockholm communities.  For that matter, so had a proud condo owner near Zurich's Waltikon stop, and so would a young dad near the DR Byen Metro station in Copenhagen.  I met no transit oriented development naysayers in Europe.  Maybe I should have tried harder to find one.
(♦)  My photos don't do the greenery justice.  I took the top-of-the-post Akalla shot with my back to the entrance of a goodly-sized park, and strolled several woodsy paths near the Fruängen station.  On the way to Kista, my T11 T-bana passed through a huge and apparently nameless nature preserve between the E18, E4 and 279 road routes.  Zoom in with Bing Maps' birds eye view, and you'll see the T-bana train tracks between the trees.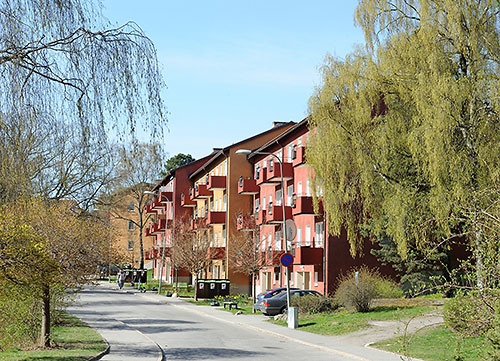 (♦)  The new towns are similar, but not cookie cutter clones of one another.  Skarpnäck struck me as the most family-oriented, Kista as the most commercial.
(♦)  Tensta, Rinkeby and Husby are described charitably as hubs of Stockholm immigrant life, and less charitably as ghettoes. They might be about the nicest ghettoes you've ever seen, in a utilitarian, generic-box-of-laundry-detergent-at-the-mall kind of way, but I was still happy to leave behind the small police action I walked into at Tensta, and would hesitate to back a moving van up to an apartment there.
* * * * *
Consider the differences between the Stockholm new towns and what is often labeled 'transit oriented development' in the U.S. (For an especially shameful bad example, look at this 2007 story about shoehorning condo towers into an already built up Los Angeles area inadequately served by bus lines.) Stockholm's blueprint and infrastructure came first. Stockholm bought up the land equivalent of five San Franciscos to build the new towns.
An Akalla local told me that 'new town' life differs from new town to new town, and from housing complex to complex. I well recall her sly, satisfied smile as she recounted happy years in one development that carefully vetted residents. Presumably, this vetting insured that hosters of midnight keggers, cranker-uppers of stereo volume controls, Airbnb subletters, inconsiderate pet owners and other unappealing neighbors all got to live somewhere wonderfully far, far, far away.
* * * * *
Would I rent or buy in one of these places?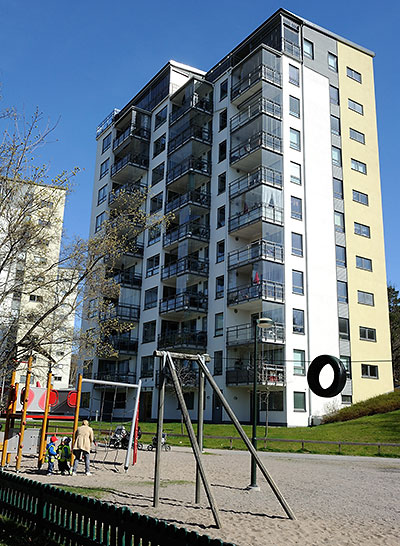 Eagerly and happily, I think, if I could afford it, but I have become an experienced apartment dweller in my senior years, and would have some questions first.  How thick are the walls?  Would I get to enjoy the gentle garden city breezes in my new digs, or have to hum along with my svensker neighbor's oldie-but-goodie ABBA CDs?  How is management?  Would they attend to infestations, broken fixtures, stingy heaters?  Tell the ABBA fan to listen through headphones?  Or would they follow the American politician's example of earnestly promising to do all that stuff, and then losing my emails and phone messages after the check cleared?
The great drawback to piling folks on top of each other in transit-centric high rises is that neighbors are now only a wall, floor and ceiling thickness away, rather than a couple of Suburban Sprawl back yards away.  If the high rise is well built and well run, the wall, floor and ceiling should be thick enough.
If.