(♦)  Greeks may sometimes bellow, fight and hurl things at one another in bitter protests, but not while hunting for a seat on the morning tram, or telling tourists how to get to the Acropolis, or sipping espressos in Kolonaki cafés. The country's grave debt woes haven't yet altered conventions of daily living, at least not as perceived by a tourist in mid-January. I spent a much mellower several days in Athens than expected, and feared for my safety about as ardently as I do at the Century City mall.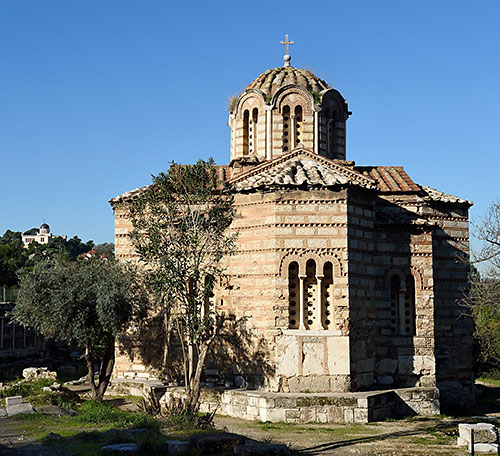 (♦)  I found the people of Greece to be unusually congenial, perhaps because I never said what I really think of their coffee.
(♦)  The ritzy-in-places suburb of Glyfada sports some nice beaches, and can be reached from the airport via the dull, functional X96 or X97 express buses. The tram ride into downtown Athens takes forty minutes, but you still might be content with a Glyfada rental. I was.
* * * * *
(♦)  Rome is filthy, stinking rich in history. In Los Angeles, I once despaired because I couldn't convey to small children the wonder of strolling rooms at the Avila Adobe that had sheltered Jedediah Smith in the nineteenth century. "Your city's soul and heritage are locked in these acres," I would think, and mourn while watching them fuss over Britney belt buckles and other kitsch in the Olvera Street alley.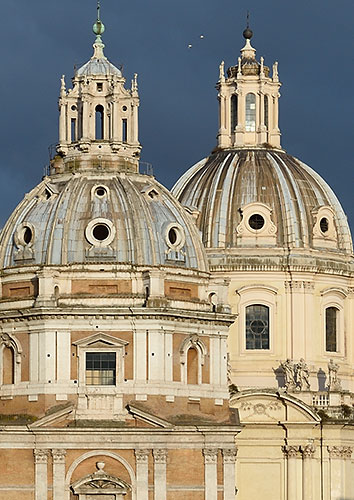 In Rome I wonder if a proposed demolition of the cherished Avila would rate even a sleepy rebuttal in a planning commission meeting. You want us to care about an adobe hut that's a measly two centuries old in Rome, Italy, that has the Colosseum, the Pantheon, the Piazza del Popolo?! You might as well give us a sob story for an expiring lease for a Krispy Kreme! Come bother us when you're worried about something older than Columbus, at least.
Rome can mistreat out-of-towners (keep reading), and they'll still come by the plane load. Hordes of young tourists explored the city with me.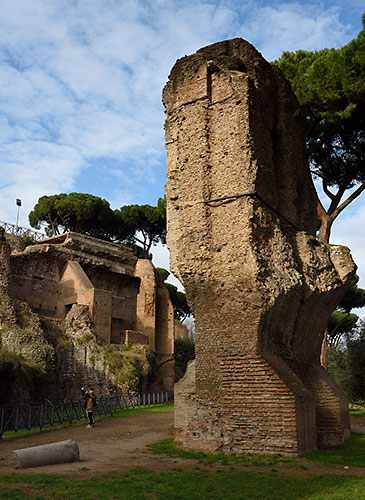 (♦)  Speaking of the young, a quick digression: I learned in Rome that not everyone who says 'hella' is a raised-in-San-Francisco young person. On Palatine Hill I overheard a conversation that included this two syllable expression — as in, The Pantheon is hella amazing., or, That old guy next to us with the camera is hella ugly. — and turned to ask the speaker if he hailed from my home town.
"No, I'm from Minneapolis," said he, pleasantly. I guess some jóvenes say 'hella' there, too. I'd thought of the term as a near litmus test for S.F. natives younger than twenty-five.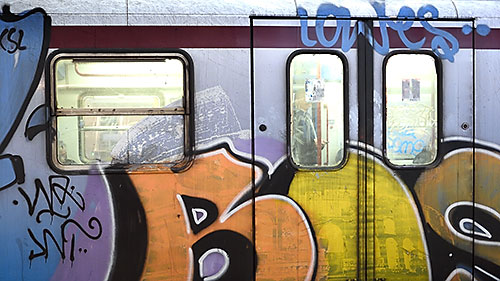 (♦)  Rome's metro is an apparition, a scandal, a disaster on the Mediterranean, a prop from a third-rate Italian horror film slapped onto tracks and commanded obscenely into service. If the hated Mussolini ever returns to life, he will ride into Rome at the helm of a B train, green-skinned, trailing slime, slobbering and clanking chains.
The wording of this paragraph may suggest that I didn't think much of the subway here.
We-ell, perhaps I do overstate, ever so slightly. The trains came on time, I'll admit, often had seats, felt safe enough. But look at these eyesores. I could have camped out on any downtown platform with my dSLR and loaded the memory card with hundreds of shots of these gruesome zombie rides. I'll bet some visiting transit managers could suffer thrash-in-a-cold-sweat nightmares that their spic-and-span fleets might one day look like this.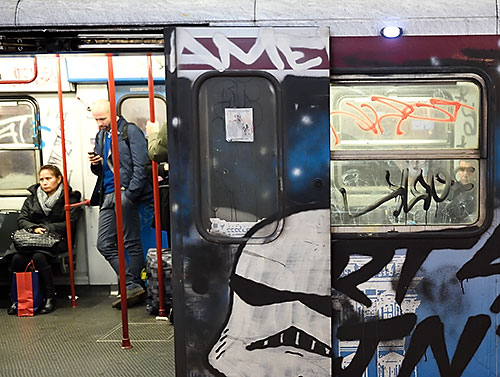 Rome's trams and buses looked perfectly presentable, as did the Leonardo Express train to the airport. I don't know why Rome can maintain one and not the other. Perhaps some important folk don't care. Where else can travelers go to visit the Musei Capitolini, Palatine Hill, the Vittoriano? Tourists will keep flooding into the city in droves, and many will ride the ugly metro, as I did.
(♦)  Hair-splitters and readers-of-rule books know that the Vatican isn't actually part of Rome. Years ago the Vatican cut a deal with Mussolini, and became a mini nation state of its own, with its own euro and postal code. That said: Rome entirely contains the Vatican, and no one will ask for your passport while passing between one and the other, and I saw no signs suggestive of border crossings.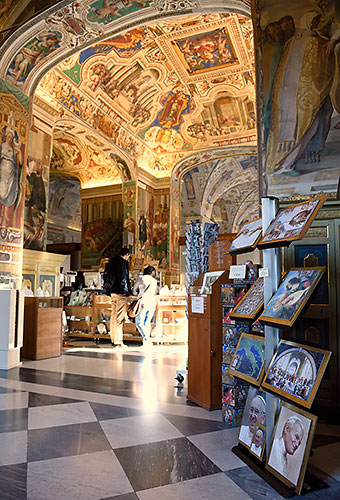 I thoroughly enjoyed my visit to the Vatican Museums, but think this is because I bought my ticket online in advance, and arrived at the 9:00 a.m. opening time en punto.
* * * * *
(♦)  "You'll get to see Gaudí!" said my friend Arnold, when I told him of my Barcelona plans.
"That cathedral," exclaimed college chum Charlie, about Gaudí's Sagrada Família.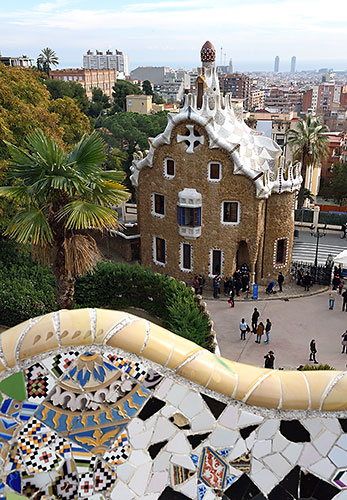 I swallowed hard, admitted to both that I'd only just learned of this Gaudí character while researching my trip. Keeping up with celeb spats on TMZ chews up most of my time in retirement; I'm not willing to miss the latest on Kim and Miley to learn about famous Spanish architects. Sorry.
Better online bios than any I'm willing to write are available here and here. Palau Güell was closed when I swung by, but I got to cluck appreciatively at Gaudí's works at Casa Batlló, Parc Güell and at Sagrada Família. The last is Barcelona's real potential world wonder, not due for final completion until 2026, but plenty spectacular in half-finished present form.
(♦)  Barcelona's metro is at least as good as the excellent metro in Madrid, and may be slightly less crowded.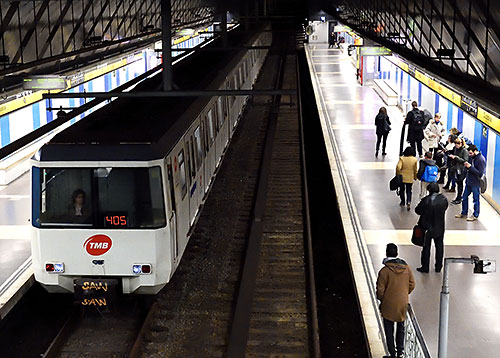 (♦)  An express train runs to the city from the airport, but probably not from your BCN terminal. I explain the gory details in this photo caption.
(♦)  Barcelona and Madrid both struck me as efficient, businesslike places. Some Spaniards reading that last sentence may have just coughed up coffee on their shirt fronts, but that was my impression, and I'll stick to it.
* * * * *
In Athens I tramped around the Parthenon and looked for a photo angle that wouldn't show the construction scaffolding, but there was nothing to block the wind that high up and I was cold, so eventually I quit. I looked down past the great stone amphitheater on the southern slope, and picked out the path to the Acropolis Museum. It would be warm in the museum, and I wanted to go there next anyway. I walked down the hill, rounding behind the amphitheater — the Odeon of Herodes Atticus, nearly nineteen centuries old, wrecked by the Goths and Heruli in 267 A.D. — among the other tourists marching along with cameras and selfie sticks and kitschy souvenir clothes, all of us perhaps a little pathetic with our predictable sightseeing goals and puppy-footed unfamiliarity with things, like San Francisco tourists who hunt for Pier 39, Fisherman's Wharf, the cable car turnaround.
I came around behind the amphitheater and thought I saw a good shot with the stone work, but the light was bad, and then I felt a little angry with myself. Just put the camera down and try to get this. The Parthenon is almost twenty-five hundred years old. I'm not understanding what I'm seeing.
So I slid the camera in the bag and found a place to sit, and for the next twenty minutes stared up at the Parthenon, like a kid in a log cabin school house made to stare at an unlearned page in a McGuffey reader. Other tourists walked past, some pausing to take selfies with the amphitheater stone work in the light I hadn't liked, a few stealing glances at the old guy sitting by himself and staring up at the sky.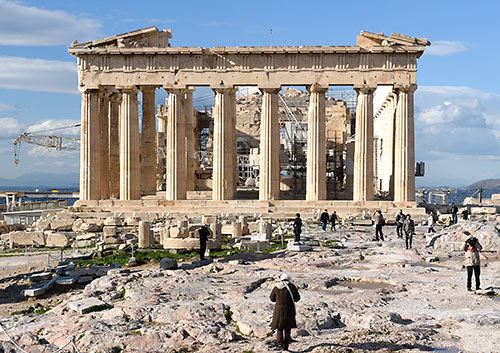 Two thousand, four hundred and fifty-three years old. The corner columns are six centimeters wider than the other columns, and the space around them is twenty-five centimeters narrower, and the floor of the Parthenon curves slightly upward. All intentionally, by design, to achieve the architects' sought-after visual effect. Maybe it was humbling and even frightening to think that an ancient people were capable of constructing a one hundred thousand ton building so precisely. 'It probably just settled with age,' some might think, but see, that just wasn't true, they'd checked the numbers. It hadn't been an accident. The builders of the Parthenon could have talked hardcore shop with any modern architect. Maybe given lessons.
I stared and stared and tried to understand, as tourists walked by and clouds rolled past and birds drifted in the cold gusts high above the silent Parthenon. Finally I gave up. This had been my trip for appreciating my own inadequacies, that was all. In Dubai I'd realized that I don't know a thing about the religion and culture of a fifth of my fellow earthlings. Now I saw that I couldn't appreciate the past very well, either. I'd spent my whole life in the states. 1776 and the Declaration of Independence were my idea of ancient history. I couldn't picture anything much farther back than that.
I stood, and avoided looking at the Parthenon again as I continued to the Acropolis Museum. I could get something to eat there and figure out the cost with my smartphone's currency app, and check my email, and the forecast on Accuweather, and look up my next transit route with Moovit. I knew how to do those things, wouldn't feel so stupid.