Covid-19 has now killed more than thirty-one thousand in Spain and nearly a million worldwide. Borders have closed; I can still travel freely to some countries, but would have to navigate various hurdles to get into others, and see no guarantee that the number and nature of these hurdles couldn't change before trip day. It's also tough to get excited about air travel during a pandemic.
I visited virtually all of Spain's transit-centric tourist draws during my first few years here. What remain are road trips. This seems like an appropriate time for them. (Although I continue to depend on the metro within city limits.) I know that I am immensely fortunate to have health and means to travel at all.
Pulling away from the curb:
PICOS DE EUROPA
The Picos are a twenty kilometer long mountain range in Spain's far north, surrounded by hundreds of woodsy acres of national park. Bang up a quick image search of the Picos and you'll see why a tourist would want to visit. A few web sites warned of summer crowds, but I saw nothing at all appropriately described with this word when I visited on September 8.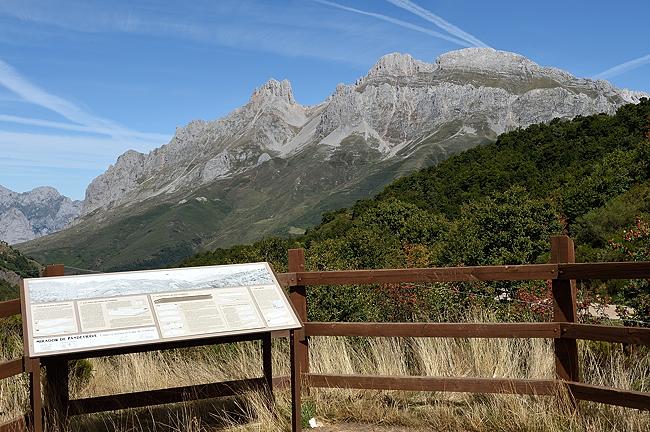 (I should fess up, though: my park visit wasn't complete. I sampled scenery in the southwestern quadrant — roughly, from Portilla de la Reina to Posada de Valdeón to Oseja de Sajambre, and then north to Cangas de Onis — and missed major Picos attractions like Potes and the Fuente Dé cable car.)
What will you see? Spectacular peaks like the one above, best ogled from 'miradores' (lookouts) along the way, but also many, many, many kilometers of empty, attractive roadway like this one: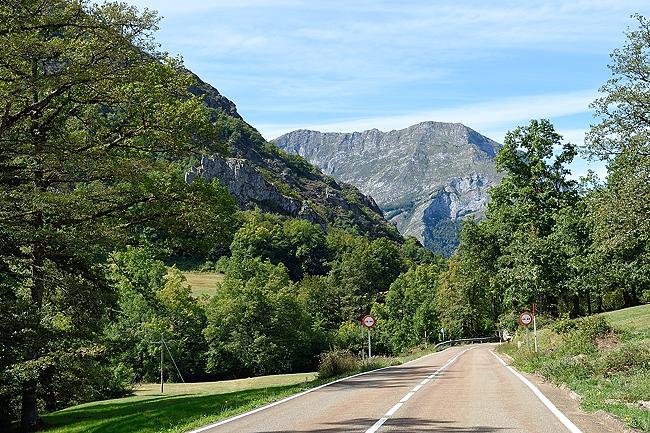 I traveled said roadways almost entirely alone. I parked at the Pandetrave mirador alongside three other cars, and while driving occasionally encountered motorcyclists or an RV. (Yes, Europe has them; they're called autocaravanas in Spain.) But most of the time: nobody.
An example: to take this roadway shot, and others like it, I simply stopped in the middle of the lane, hung the camera out the window and popped a couple of snaps onto the memory card. I would never dream of doing any such thing on a trafficked road, but no other car ever appeared behind or in front of me while I photographed. If you're content with your own company, you'll get plenty of it in the Picos.
Naturally, I encountered more fellow humans in the hamlets of Posada de Valdeón and Oseja de Sajambre, populations 526 and 323, respectively. In one, I passed likely tourists drinking in the mountain air at an outdoor café, and now wonder why I didn't join them.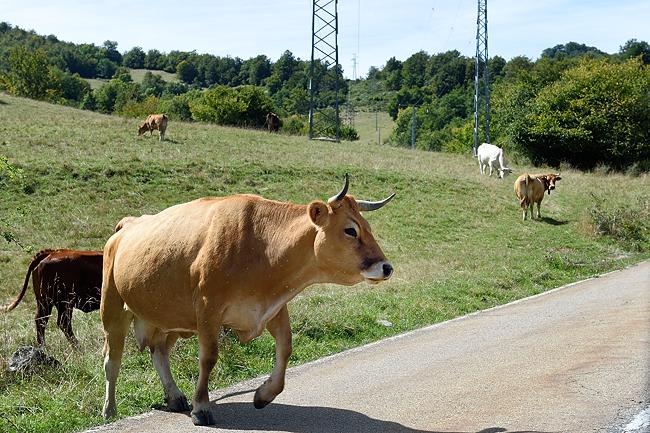 As for the wandering bovine: I braked for safety as I approached the roadside herd, and suppose she interpreted said braking as a cow's equivalent to a pedestrian 'walk' sign. She trotted right in front of me, perhaps in a bid to be immortalized online, while observed by the fellow grass-muncher at center right. She may want you to know that she is a likely pure-blooded Asturian mountain cow, and not some plain ol' plebe riffraff of a cow from the boonies.
OVIEDO
Oviedo is the capital city of Asturias, an autonomous community on Spain's northern coast. Queen Leticia grew up there. Now you'll have something to ask her about, if she happens to chat up a commoner like you at a state procession. It is reportedly the cleanest city in Spain, and proud town boosters can point to official OCU surveys saying as much. (The dirtiest? Jaén, in Andalucía. I admit that I'm in no hurry to investigate personally. You can go, though!  I'll read your report.)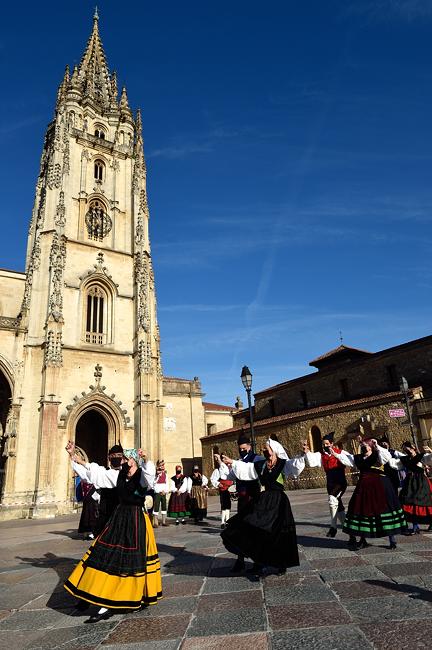 I berthed my wheels at Parking El Vasco, wandered past merry outdoor diners and cortado sippers on C/Gascona, and soon stumbled onto a restrained Day of Asturias celebration on the plaza fronting the cathedral. Organizers had arranged a few dozen widely-set-apart plastic chairs in a cordoned area facing Covid-masked dancers and musicians. A seat in front was available, with an unobstructed view of performers and a centuries-old cathedral bathed in golden, late afternoon rays. I try to know when I'm supposed to take pictures of something.
---
I later fetched my steed from El Vasco, and dealt with the maddening navigational issues last endured during my trip to Galicia. Dost thou contemplate a road trip in Europe? Listen up:
I may be unhappy to be plugged into Google's monitoring-every-step-you-take international surveillance system, but still rely on Google Maps Navigator when driving. (And jettison this Google connection once done with the trip, as described in my Modding my Android Smartphone post.) I regard the app as excellent. In the U.S. — if memory serves, and maybe it doesn't — it was virtually never wrong, knew everything.
In Spain, alas, it doesn't know everything. Almost everything, yes. The omnisicent app navigator had guided me unerringly to, through and from Extremadura in August, had shepherded me adroitly in and out of the Picos, would perform flawlessly after I left Oviedo, too.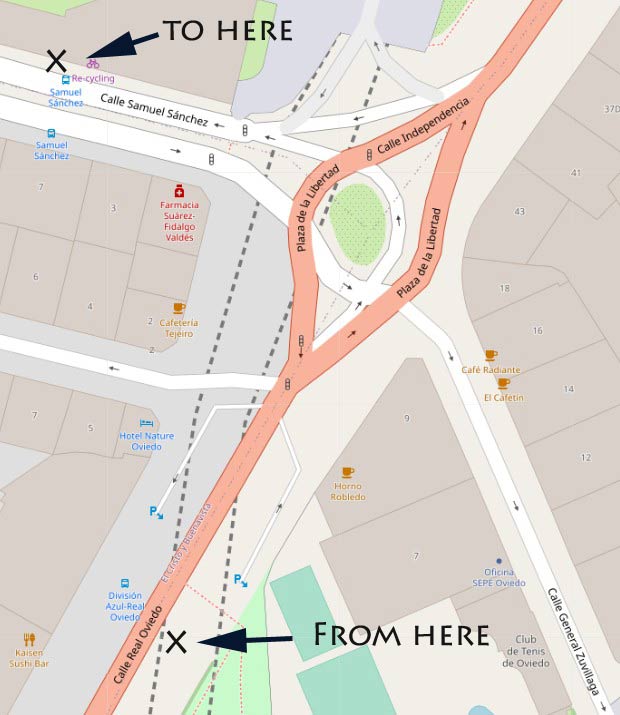 In Oviedo, it met roundabouts it didn't fathom. The Plaza Libertdad roundabout above sizes up as a representative example, although I don't remember if it was one of my misery-makers on September 8 and 9.
Let's say you have to drive from C/Real Oviedo south of the roundabout to C/Samuel Sánchez. Can do! … but only from the far left lane. If you approach from the middle or right, you'll discover too late that you have missed your turn, are now motoring north of where you wanted to go on C/Indepencia, and are about to lose minutes (perhaps many minutes) to a detour. Worse, you may be caught in a software loop. The detour may send you back to the same unfamiliar roundabout, which Google won't understand any better than it did five minutes earlier. Another wrong turn.
In the U.S., at least in my experience, the all-wise navigator knows enough to escort you through these booby traps. If you need to approach from the far left lane, it will tell you so. In Spain, it usually will, too. But not always.
Bottom line: expect this problem if planning to drive here. On this trip, I suffered only in Oviedo.
LASTRES
Or Llastres, in the Asturian language, with an extra l. Known as the beautiful village of Asturias, and I saw why when I got there. If only I were half as attractive!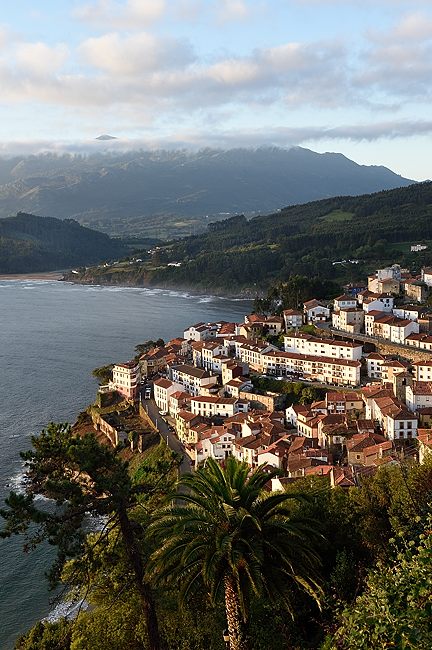 Population: about 2,000. A fishing village. If shutterbugs hit the Italian coast just to bag snaps of Manarola, I wonder why they don't shower similar love on Lastres. (Even if it doesn't have Manarola's multi-hued houses.) Maybe they haven't heard of it.
I wheeled into one of many available slots at the free Parking Público west of the parroquia, and fell into pleasant chat with a tripod-toting fellow photographer enroute to the Mirador de San Roque, where I took this shot. (Fifteen minutes after sunrise is a good time to meet other shutterbugs.) The lucky man lives in Lastres, regularly visits the mirador, and absolutely refused to take a pic until I'd finished, despite my etiquette-conscious entreaties. He even offered to lend me his tripod. Best wishes, kind sir, whoever you are.
I later hiked down to "Barrio Bajada al Puerto," the closest-to-the-ocean street in the frame, and found two cafés open before 9:00 a.m. Another reason to visit, fellow early birds.
COMILLAS
Some of the scenery glimpsed alongside the A-8 between Lastres and Comillas was as beautiful as any ever seen in a road trip. Please bear in mind, though: Spain's north coast gets serious rain. Lots of nourishing H20 for what grows in the ground, and potential problems for tourists. I suggest investigating weather patterns before your trip.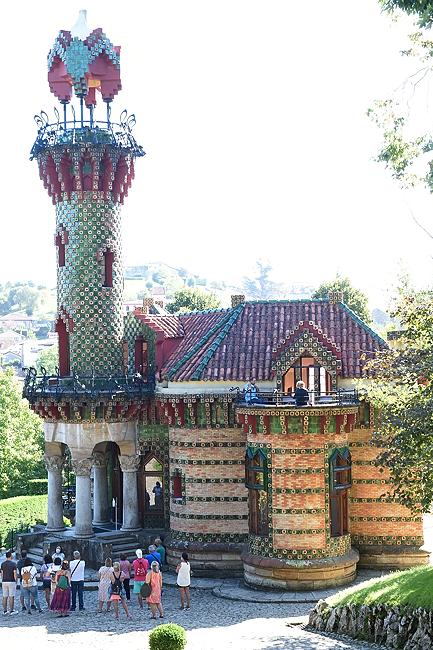 I visited Comillas mostly to see El Capricho de Gaudí, one of the few outside-of-Catalonia buildings designed by the legendary architect Antoni Gaudí. (Longtime readers may remember that I'd never heard of Gaudí before my first Barcelona visit in 2015, and now refer to him as 'legendary.' As if everyone should already know what I hadn't known myself five years ago.) Well worth seeing, but I failed to persuade our solar system's star to sidestep discreetly to the other side of the heavenly vault, so I could take a pic in sunny 16 light. My copy of 101 Incantations for Photographers must be dated.
The Palacio de Sobrellano is next door to El Capricho, and is probably irritated that it now gets less attention, or as irritated as a century-old palace is likely to get. You can't walk easily between one and the other. Sorry. Gotta hike to a separate entrance.
I parked in the free Aparcamiento Comillas lot, but left town earlier than expected, as I was put off by the din, clutter and general ugliness of other motorists arriving as I had. (How's that for hypocrisy?) Pontevedra has the right approach, y'ask me: city center for people, cars on the outskirts. (With exceptions made for the infirm.) It wouldn't have hurt me to leave the wheels on the perimeter and walk a kilometer or two. And I'm an old guy, too, albeit a healthy one.
SANTANDER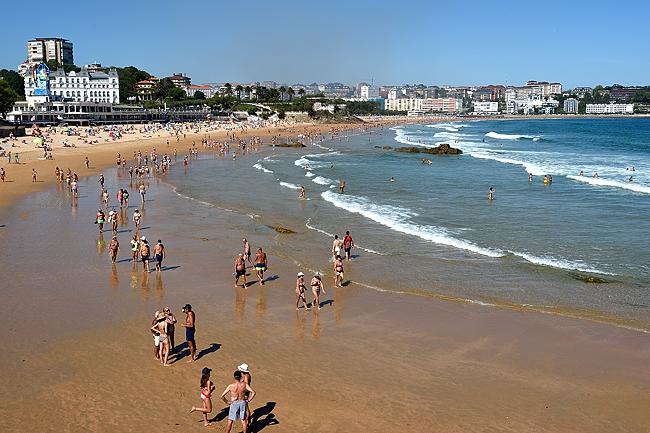 Finally, a visit to Santander! I don't know why, but I have regarded such a visit as a rite of passage since my arrival in 2016, although I now can think of little to say about my hours there. I took this beach shot before embarking on an agreeable stroll around the Magdalena Peninsula.
---
High-res copies of the shots above (and a few others) are in the photo directory, linked below. One exception: the stink-o El Capricho photo. Allow a geezer his pride, please.  Much better are available online.