One unheralded day in 1992, among the young pines on the southern banks of Spain's Buendía reservoir, Madrileños Eulogio Reguillo and Jorge Maldonado hoisted chisels to sandstone to commence the sculpture shown above. La Monja, they called it; they started a second sculpture, and a third.
Twenty sculptures and bas-reliefs now grace the woodsy, 1.5 kilometer "route of the faces" in Cuenca's scenic middle-of-nowhere between Madrid and the province's eponymous capital city. Castilian internautas have gushed over las caras; English writers, far less.
You're probably a potential sightseer, if you've read this far. I'll cut to the chase: should you visit?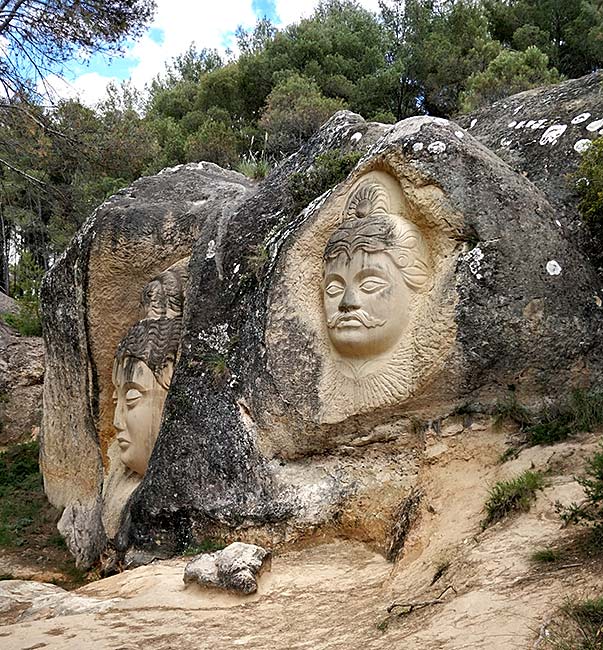 You betcha, if traveling by private vehicle on an unhurried itinerary east of Madrid. Especially with kids. The trails are gentle, easily navigated; the scenic reservoir is worth visiting in its own right. No lines, no crowds. Nature, art, serenity! OpenStreetMap knows how to get there, so does Google.
A regretful No, if pressed for time in Spain and without a personal vehicle, like the rental booked for this trip. The reservoir is capital R Remote, many kilometers from other sights that might attract a wave of a selfie stick. Buendía's ayuntamiento reports fewer than five hundred inhabitants, and I didn't spot any while traveling to or from las caras.
Official home page:  http://www.rutadelascaras.com/
Wikimedia Commons: https://commons.wikimedia.org/wiki/Category:Ruta_de_las_Caras